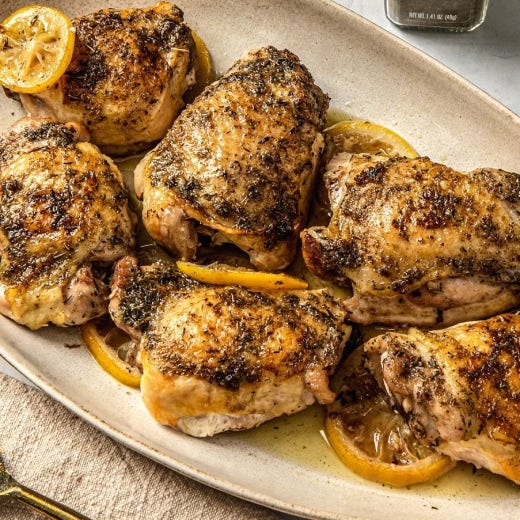 Roasted Chicken Thighs with Sage, Thyme and Garlic
This oven-roasted chicken thighs recipe will become an easy weeknight go-to. Tender and juicy on the inside, crispy on the outside, and expertly seasoned with organic thyme, sage and garlic, these crave-worthy thighs turn out perfect every single time.
½ teaspoon sea or Himalayan pink salt
¼ teaspoon Simply Organic® Black Pepper
½ teaspoon Simply Organic® Onion Powder
½ teaspoon Simply Organic® Garlic Powder
1 teaspoon Simply Organic® Sage
1 small lemon, sliced
1 teaspoon Simply Organic® Thyme
2 tablespoons avocado oil
6 skin-on, boneless chicken thighs (around 2 pounds)
Directions
Preheat oven to 450 degrees. On bottom of 9-x-13-inch baking dish, scatter lemon slices.Pat chicken thighs dry with paper towels and place over lemons, skin side up.
In a small bowl, combine avocado oil, sage, thyme, garlic powder, onion powder, salt and black pepper. Using a basting brush, brush each thigh with spice mixture. Bake for about 35 to 40 minutes or until chicken thighs have an internal temperature of 165 degrees and skin is crispy.