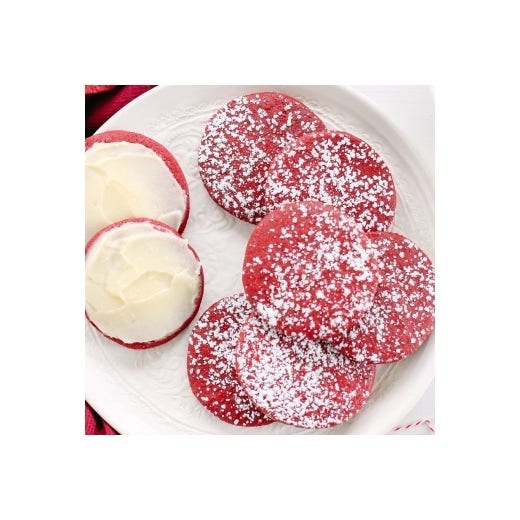 Red Velvet Sugar Cookies with Cream Cheese Frosting
Classic red velvet cake turns sugar cookie in this one-bowl recipe with cream cheese frosting.
1 cup organic white cane sugar
12 tablespoons butter, softened, divided
1 egg
2 teaspoons beet juice or natural red food coloring
1 1/2 cups all-purpose flour
3 tablespoons unsweetened cocoa powder
1/4 teaspoon sea or Himalayan pink salt
2 ounces cream cheese
2 cups powdered sugar
Directions
To Make the Cookie Dough:
In a large mixing bowl (or stand mixer bowl), combine sugar and 8 tablespoons butter. Mix for about 1 minutes, until creamy. Add egg, 2 teaspoons vanilla extract and beet juice or food coloring. Mix until well combined.
Add flour, cocoa powder and salt. Mix until well combined.
Form dough into a ball, fold parchment paper around dough and refrigerate for 30 minutes to 1 hour.
Preheat oven to 350 degrees.
Remove dough from refrigerator and let sit for about 5 minutes at room temperature, until it is soft and easy to roll out.
Place another large piece of parchment paper over top of ball, then roll dough out. *The parchment paper underneath and on top of the dough will make for easy cleanup.
Cut dough into desired shapes, place on a cookie sheet and bake for about 12 minutes.
Remove cookies from the oven and cool on a cooling rack.
To Make the Frosting:
While the cookies cool, prepare the cream cheese frosting. In a small mixing bowl, combine cream cheese and remaining 4 tablespoons butter. Mix until creamy.
Add powdered sugar and whisk until well combined.
Add remaining 1 teaspoon vanilla extract and whisk until well combined.
Spread frosting on cookies.
RECIPE TIPS
To split preparation time, make the dough ahead of time and refrigerate for up to 24 hours.
Expect the color of the cookies to be different depending on the coloring agent. Beet juice will produce darker, muted red cookies.