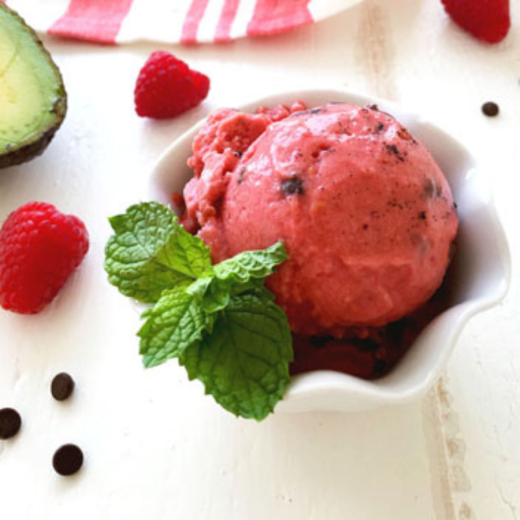 Raspberry Avocado Sorbet with Vanilla Beans
Chocolate and vanilla lovers rejoice! The battle between the two is over in this simple, wholesome raspberry avocado sorbet recipe. Smoky-sweet vanilla bean compliments rich dark chocolate chips, creamy avocado and vibrant, juicy raspberries.
1 medium avocado, peeled and pitted
2 1/2 pints fresh raspberries
Juice of 1 lime
3 tablespoons honey
1 Simply Organic® Madagascar Vanilla Bean, scraped, or 1 tablespoon Simply Organic® Vanilla Bean Paste
1/4 cup dark chocolate chips*
Directions
Properly chill your ice cream or sorbet churning bowl in the freezer over night. (If you don't have an ice cream maker, see tip below.)
In a high-speed blender or food processor, combine avocado, raspberries, lime juice, honey and vanilla bean or bean paste. Blend on high until smooth and creamy.
Pour mixture into chilled ice cream maker and process for about 10 minutes. Stir in dark chocolate chips, then continue processing according to the ice cream maker manufacturer's instructions. Serve or store in freezer.
RECIPE TIPS
For a firmer sorbet, freeze for at least 2 hours before serving.
If you don't have an ice cream maker, complete steps 1 and 2, then transfer mixture to a freezer-safe container. Swirl in dark chocolate chips, then smooth flat with a spoon. Cover and freeze for about 4 hours, until firm.
*For vegan, plant-based or gluten-free diets, make sure the ingredients in the chocolate chips you purchase fit your diet.