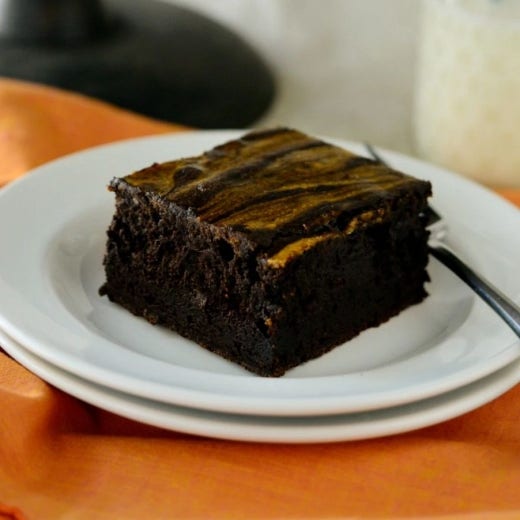 Pumpkin Spice Swirl Brownies
With your favorite autumn spices and creamy pumpkin, this decadent swirl brownies recipe combines fudgy, dark chocolate with a hint of pumpkin pie. We like to think of it as two desserts in one!
4 ounces cream cheese, softened
1/2 cup pumpkin puree
5 eggs, divided
1 teaspoon Simply Organic® Pure Madagascar Vanilla Extract
1 cup granulated sugar, divided
1/2 teaspoon Simply Organic® Cinnamon
1/4 teaspoon Simply Organic® Nutmeg
1/8 teaspoon Simply Organic® Cloves
1/8 teaspoon Simply Organic® Allspice
1/8 teaspoon Simply Organic® Ginger
8 ounces 60% cacao bittersweet chocolate, broken into pieces
8 tablespoons unsalted butter
3/4 cup dark brown sugar
1 cup all-purpose flour
1/4 cup whole wheat flour
1/3 cup cocoa powder
1/2 teaspoon baking powder
1/2 teaspoon sea salt or Himalayan pink salt
Directions
Preheat oven to 350 degrees. Line with parchment paper or grease an 8x8-inch or 9x9-inch pan.
In a medium-sized bowl, combine cream cheese, pumpkin, 1 egg, vanilla, 1 cup granulated sugar, cinnamon, nutmeg, cloves, allspice and ginger. Mix with an electric mixer until smooth. Set aside.
In a medium-sized saucepan over low heat, melt chocolate and butter. Stir until smooth. Remove from heat and add remaining 2 teaspoons granulated sugar and brown sugar. Once the chocolate mixture has cooled, add 4 remaining eggs and whisk until well combined.
In a large bowl, sift together both flours, cocoa powder and baking powder. Add salt and stir until well combined.
Add chocolate and butter mixture to the dry ingredients. Stir until just combined.
Pour brownie batter into pan and bake for 5 minutes. Remove from oven, use a spoon to make divots in the batter, then spoon the pumpkin mixture into the divots. Use a knife to swirl the pumpkin mixture into the chocolate brownie batter. Bake for 45 to 50 more minutes.
Cool completely before running a knife around the edges and carefully removing the brownies. Cut and serve.