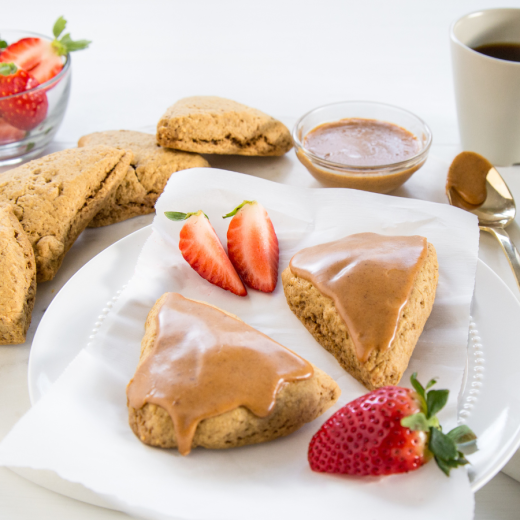 Try this warm pumpkin spice scone recipe with a simple, yet delectable, golden-brown glaze.
1/2 cup + 3 tablespoons canned pumpkin puree, divided, plus more for glazing
1 large egg
3 tablespoons heavy cream
1 tablespoon molasses
2 teaspoons Simply Organic® Pure Vanilla Extract
2 cups all-purpose flour
1/4 cup + 2 tablespoons brown sugar, divided
1 teaspoon baking powder
1/2 teaspoon baking soda
1/2 teaspoon salt
3 teaspoons + 2 teaspoons Simply Organic® Pumpkin Spice
1 stick unsalted butter, cut into 1/2-inch chunks
1 1/2 cups powdered sugar, plus more for dusting
Directions
Preheat oven to 400 degrees. Line a baking sheet with parchment paper.
In a medium bowl, whisk together 1/2 cup pumpkin, egg, cream, molasses and vanilla extract. Set aside.
In a food processor, combine flour, brown sugar, baking soda, salt and 3 teaspoons pumpkin spice. Process for about 20 seconds, until no lumps of brown sugar remain.
Add butter and pulse until mixture resembles a coarse meal with small chunks of butter. Add pumpkin mixture and pulse just until blended and sticky.
Lightly flour a countertop or work surface. Dump the sticky scone dough onto the floured surface and dust the top lightly with more flour. Using your hands, gently knead the dough until it comes together into a smooth ball. Divide the dough in half. Dust your work surface with flour again and form each half into a 5-inch circle, about 3/4 inch thick. Using a sharp knife dusted with flour, slice each circle into 6 even wedges (cut each circle in half, then cut each half into thirds). If the dough starts to stick to the knife, dust the knife with more flour. Place the wedges on the prepared baking sheet.
Bake scones for 12 to 15 minutes, until the bottoms are browned but not burnt. Let the scones cool on the baking sheet for a few minutes, then transfer to a wire rack to cool completely.
While the scones cool make the glaze. In a small bowl, combine the powdered sugar, remaining pumpkin puree, and remaining pumpkin spice. Whisk until well combined with no lumps of sugar.
When the scones are cool, use a butter knife to spread and swirl the glaze evenly over top. Wait about 15 minutes for the glaze to set, then use a fine sieve to dust with remaining powdered sugar.
Serve warm or cool.