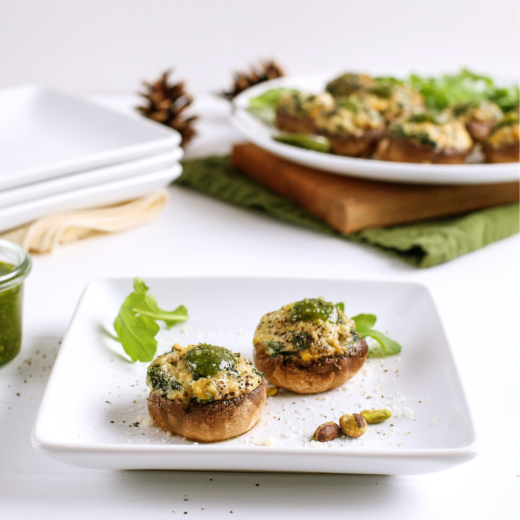 Pistachio and Pesto-Stuffed Mushrooms
Pesto, pistachios and Parmesan cheese! Plus basil, spinach and baby arugula. Need we say more? This stuffed mushrooms recipe has it all.
For the Pesto:
2 cups packed basil leaves
1/3 cup unsalted pistachios, shelled
1/3 cup olive oil
1/3 cup grated Parmesan cheese
1 teaspoon Simply Organic® Garlic Powder
1 pinch sea salt or pink Himalayan salt
For the Mushrooms and Pistachio Filling:
12 whole mushrooms (white, cremini or baby bella variety), rinsed, patted dry, stems removed and reserved
1/3 cup unsalted pistachios, shelled
1 tablespoon olive oil
2 packed cups spinach, chopped
1/4 teaspoon sea salt or pink Himalayan salt
1/4 teaspoon Simply Organic® Black Pepper
For Assembly:
1/2 cup cream cheese, at room temperature
1/4 cup grated Parmesan cheese, plus more for garnish
1 tablespoon olive oil
Baby arugula, for garnish
Directions
To Make the Pesto:
In a high-speed blender, combine basil, pistachios, olive oil, Parmesan cheese, garlic powder and salt. Blend on high until smooth.
To Make the Mushrooms and Pistachio Filling:
Using a teaspoon, dig out just enough of each mushroom interior to create a cavity for the filling, taking care not to puncture a hole in the base.
In a food processor, combine mushroom stems and pistachios. Pulse until finely chopped.
In a large skillet over medium-high heat, heat olive oil. Add mushroom and pistachio mixture. Sauté for 4 to 5 minutes, stirring frequently, until mushrooms begin to brown. If mixture begins to stick to the skillet, add additional olive oil.
Add spinach, salt and pepper. Sauté, stirring frequently, for 2 to 3 minutes, until spinach has wilted.
Remove from heat and allow to cool.
To Assemble:
Preheat oven to 375 degrees.
In a medium-sized bowl, combine cream cheese, pesto, Parmesan cheese and spinach mixture.
Stuff each mushroom with 1 tablespoon filling. Wipe out skillet and evenly spread stuffed mushrooms in it. Drizzle olive oil over mushrooms.
Bake for 18 to 20 minutes, until mushrooms brown on the bottom and filling is warmed.
Garnish with baby arugula and Parmesan cheese, then serve with leftover pesto.
Recipe Tip:
To decrease the prep time before serving, prepare the pesto and filling up to 24 hours in advance.