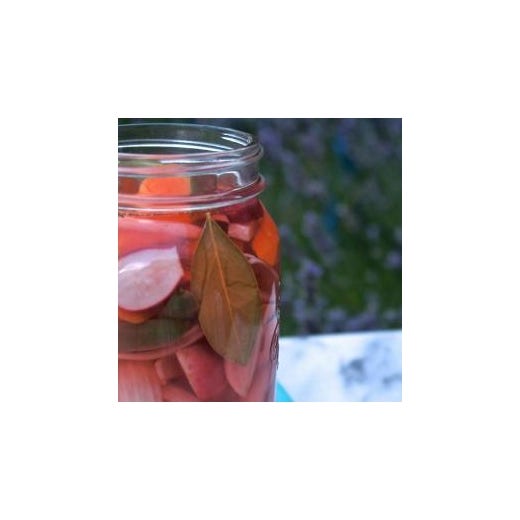 Pickled Mexican Mixed Vegetables
A quick spicy pickled vegetables recipe packed with jicama, carrots, radishes, onion and jalapeño.
Makes 1 quart.
1 cup jicama, peeled and cut into 3-inch pieces
3 medium carrots, peeled and cut crosswise into 1/3-inch slices
8 radishes, quartered
1 medium yellow onion, peeled and cut into 1/2-inch wedges
2 jalapeño peppers, quartered lengthwise, seeds and stems removed
1/2 cup cilantro, chopped
2 Simply Organic® Bay Leaves
1 cup water, divided
1 tablespoon Simply Organic® Garlic Salt
1/2 teaspoon Simply Organic® Oregano
1 tablespoon cane sugar
1 1/2 cups white vinegar
Directions
In a medium-sized bowl, combine jicama, carrots, radishes, onion, jalapeño, cilantro and bay leaves. Stir gently until well combined.
Into a 1-quart jar, place vegetables, leaving about an inch of space at the top. If you have leftover vegetables, store them for another use.
Into a medium-sized saucepan over medium heat, pour 1/2 cup water. Add garlic salt, oregano and sugar. Cook, stirring frequently, until sugar dissolves.
Into the jar, pour liquid from the saucepan and add remaining 1/2 cup water and vinegar. If vegetables are not covered, add more water until completely covered.
Put on lid and store in refrigerator for at least 24 hours and up to 3 months.