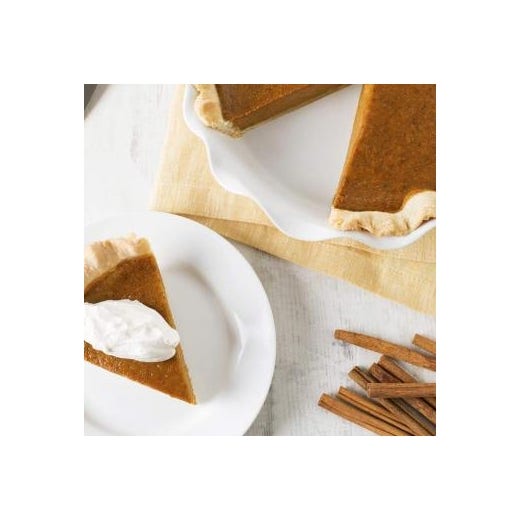 Perfectly Spiced Pumpkin Pie
Organic cinnamon, cardamom, nutmeg and cloves make for a mouthwatering classic dessert.
For the Crust:
1 1/4 cups all-purpose flour
1/4 teaspoon sea salt or Himalayan pink salt
8 tablespoons unsalted butter
1/4 cup ice water
For the Pie Filling:
1 teaspoon Simply Organic® Cinnamon
1/4 teaspoon Simply Organic® Cardamom
1/4 teaspoon Simply Organic® Ground Nutmeg
1/4 teaspoon Simply Organic® Ground Cloves
1/4 teaspoon sea salt or Himalayan pink salt
1/2 cup cane sugar
1 can (15 ounces) pumpkin purée
1/2 cup maple syrup
1 teaspoon Simply Organic® Pure Madagascar Vanilla Extract or Vanilla Bean Paste
2 large eggs, lightly beaten
1 cup heavy whipping cream
Freshly whipped cream, for topping
Directions
To Make the Crust:
In a large bowl, combine flour and salt. Cut in butter until coarse crumbs form. Stir in water (without the ice!) a tablespoon at a time, until mixture forms a ball.
Wrap in plastic and refrigerate for 4 hours or overnight. Remove from refrigerator and allow dough to return to room temperature for at least 20 minutes before using.
Roll out dough to fit an 8-inch pie plate. Press dough evenly into the bottom and sides of the pie plate, then crimp or pinch edges.
To Make the Pie:
Preheat oven to 425 degrees.
In a mixing bowl, combine spices, salt and sugar. Stir until well blended.
In a separate bowl, combine pumpkin purée, maple syrup and vanilla. Stir in eggs, spice mixture and cream.
Pour batter into an 8-inch pie shell and bake for 15 minutes. Reduce heat to 350 degrees and bake for about 90 minutes, until center is set. Cool on a wire rack.
Serve pie topped with whipped cream.
RECIPE TIPS
Use leftover pie crust dough to make leaf-shaped decorations for the top of the baked pie. Simply bake until lightly browned, then place on top of the cooled pie.
Use our vanilla bean paste in place of regular vanilla if making homemade whipped cream. Just stir it into the whipping cream at the beginning of the process.