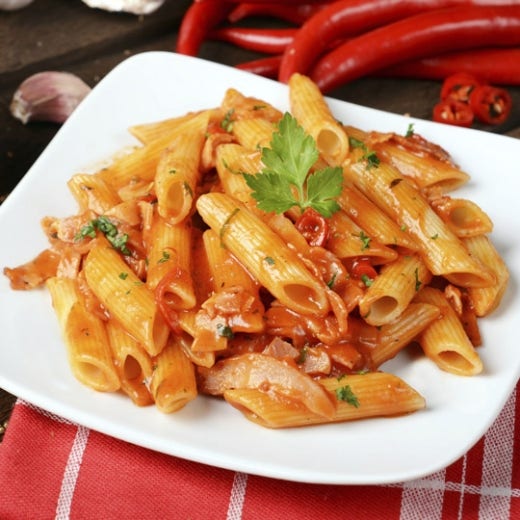 Penne with Tomato and Herbs
Transform your next meal with this Italian-inspired penne pasta recipe. Seasoned with the Italian trifecta of garlic, basil and oregano, this rich, creamy pasta can be topped with Parmesan cheese and served with bread slices for an all-in-one vegetarian pasta dish.
1 tablespoon neutral oil
1 large onion, finely chopped
2 teaspoons Simply Organic® Garlic Powder
1 can (28 ounces) chopped tomatoes, with liquid
2 teaspoons Simply Organic® Basil
1 teaspoon Simply Organic® Oregano
2 tablespoons Simply Organic® Parsley Flakes
1 pound penne, cooked al dente
Freshly grated Parmesan cheese or nutritional yeast (optional)
Directions
In large non-stick skillet, heat oil over medium heat. Add onion and cook, stirring occasionally, for 5 to 10 minutes until soft. Add garlic, tomatoes, basil, oregano and parsley; simmer for about 30 minutes, stirring occasionally, until herbs have plumped and flavors have blended nicely. Season to taste with salt and pepper.
In a heated bowl, toss pasta with hot sauce to rewarm. Serve immediately, with Parmesan on the side.