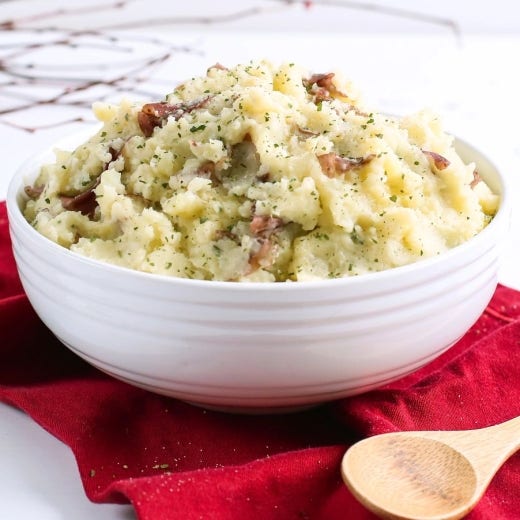 Garlic Mashed Potatoes with Parsley
Studded with vibrant parsley flakes, this garlic mashed potatoes recipe is an upgrade to the beloved side dish.
5 pounds potatoes, peeled and quartered
1 1/4 cups milk
10 tablespoons unsalted butter
3/4 teaspoon Simply Organic® Garlic Powder
2 1/2 teaspoons sea salt or Himalayan pink salt
Simply Organic® Black Pepper, to taste
2 1/2 teaspoons Simply Organic® Parsley
Directions
In a large pot, place potatoes. Cover with water and bring to a boil. Reduce to a simmer and cook for 15 to 20 minutes, until tender, then drain.
In a small saucepan over medium heat, combine milk and butter. Heat until butter is melted.
Add milk and butter mixture, garlic powder, salt and pepper to potatoes. Mash until desired consistency is achieved, then gently stir in parsley.
RECIPE TIP
For a creamier, tangy version, replace half the milk with sour cream or plain yogurt.