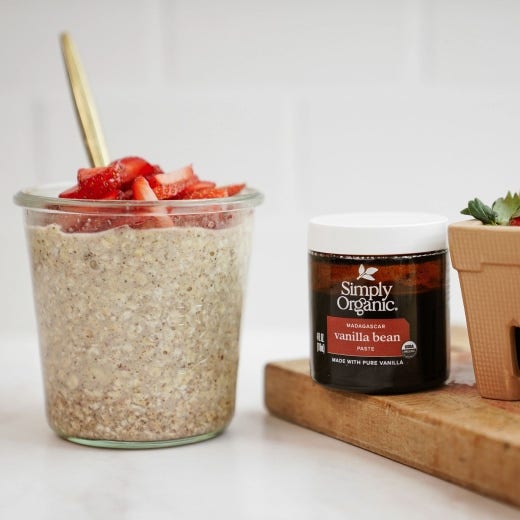 Overnight Oats With Vanilla Bean Paste
Wake up to these satisfying, vanilla-infused oats that are ready to go when you are. Easy to grab and eat on the run, this versatile breakfast dish can also be customized to incorporate your favorite fruit or other seasonal ingredients.
Directions
In a pint-sized mason jar or other airtight, lidded container, add oats, flax meal, almonds and cinnamon. Swirl together until combined.
Add almond milk and vanilla bean paste, secure lid tightly, and shake to mix well.
Refrigerate for at least three hours; preferably overnight.
Serve warm or cold. To heat, remove lid and microwave 1 to 1 1/2 minutes, or warm in a small saucepan until heated through.
RECIPE TIPS:
This recipe can be made ahead and kept in the refrigerator for up to three days.
Sprinkle on your other favorite spices for added flavor complexity, such as cardamom, ginger, nutmeg or pumpkin spice.
The oats are great topped with seasonal fruit. Here are our favorite toppings, by season: Spring: Rhubarb compote, strawberries Summer: Blueberries, blackberries, or sliced peaches Fall: Thinly sliced apple or pear; better yet, pumpkin butter Winter: Dried tart cherries, fruit compote, or lemon curd