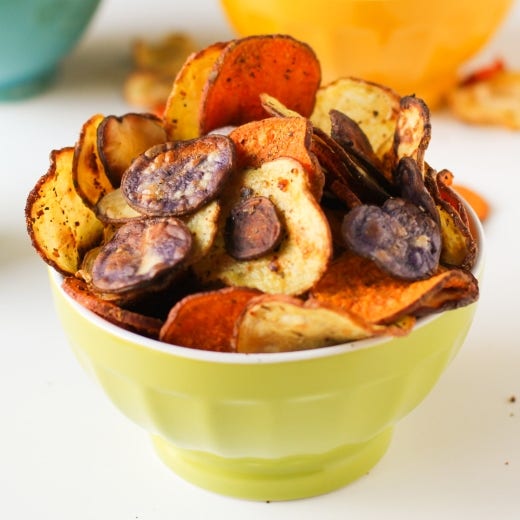 The best part about this baked potato chips recipe is that it actually makes the potatoes taste like potatoes, not merely oil and salt. Move beyond white potatoes to include sweet potatoes, yams and/or colorful heirloom varieties.
2 pounds potatoes of choice (sweet potatoes, yams, Yukon gold potatoes, purple potatoes), peeled or unpeeled, cut into 1/8-inch-thick rounds
1 1/2 teaspoons grapeseed or olive oil
2 teaspoons Simply Organic® Garlic & Herb Vegetable Seasoning Mix
Sea salt or Himalayan pink salt, to taste
Directions
Preheat oven to 400 degrees.
In a mixing bowl, combine potatoes, oil and seasoning mix. Toss until potatoes are evenly coated.
On a large baking sheet, evenly spread potatoes. Bake for about 10 minutes on each side, until golden brown and crispy and the edges fold up slightly.
Sprinkle chips with salt and serve with your favorite dip!
REICPE TIP
For thinner, crisper chips and/or to speed up the baking, slice potatoes into 1/16-inch-thick rounds and bake at 375 degrees for 5 to 8 minutes on each side.