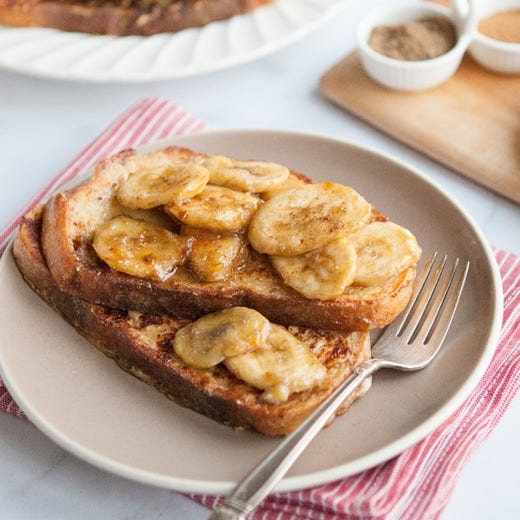 Cardamom French Toast with Caramelized Bananas
A surefire way to revive day-old bread, this simple French toast recipe is dressed up with caramelized bananas, real maple syrup and organic ground spices.
3/4 cup whole milk
3 large eggs
1 tablespoon pure maple syrup, plus more for serving
1 teaspoon Simply Organic® Pure Madagascar Vanilla Extract
1 1/4 teaspoons Simply Organic® Ceylon Cinnamon, divided
1 1/2 teaspoons Simply Organic® Cardamom
1 pinch sea salt or pink Himalayan salt
8 slices bread
2 tablespoons butter, divided
1 tablespoon brown sugar
2 ripe bananas, sliced into 1/4-inch thick pieces
Directions
Preheat oven to 325 degrees.
In a large shallow bowl, whisk together milk, eggs, maple syrup, vanilla, 1 teaspoon cinnamon, cardamom and salt.
Working with one slice at a time, dip bread into egg mixture and turn gently, allowing both sides to soak up mixture.
In a large skillet over medium heat, melt 1 tablespoon butter. Cook slices for about 2 minutes on each side, until golden brown. Place bread on a rimmed baking sheet and transfer to oven to warm.
Working with the same skillet over medium heat, melt remaining 1 tablespoon butter. Add brown sugar and remaining 1/4 teaspoon cinnamon. Stir until sugar has dissolved. When mixture begins to bubble around the edges, add banana slices and stir to coat.
Cook, stirring occasionally, for 2 to 3 minutes, until bananas begin to brown.
Serve French toast hot with a generous spoonful of caramelized bananas, a drizzle of maple syrup and a sprinkling of cinnamon and cardamom.