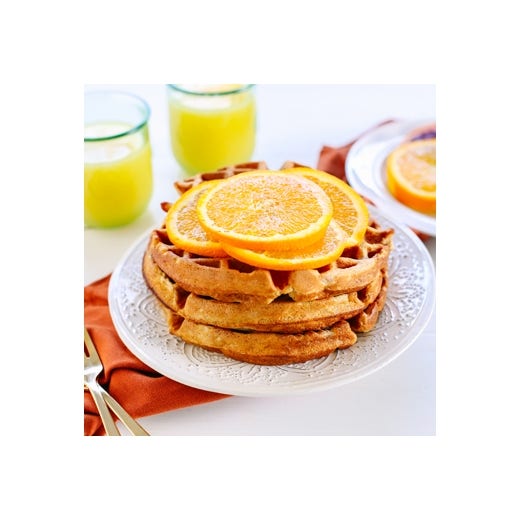 Orange Vanilla Waffles with Cinnamon
Liven up your breakfast or brunch with this fluffy whole wheat waffles recipe flavored with vanilla extract, a burst of orange flavor and cinnamon!
2 cups whole wheat flour
2 teaspoons baking powder
1 tablespoon orange zest, plus more for garnish
1/2 teaspoon Simply Organic® Cinnamon
1/4 teaspoon sea salt or pink Himalayan salt
1 1/4 cups orange juice
1 cup milk
4 tablespoons unsalted butter, melted
2 eggs
1 1/2 teaspoons Simply Organic® Pure Madagascar Vanilla Extract
1 Simply Organic® Madagascar Vanilla Bean, split lengthwise and seeds scraped (optional, but recommended for best flavor)
Orange slices, for garnish (optional)
Pure maple syrup, for serving
Directions
Preheat a waffle iron.
In a medium-sized bowl, combine flour, baking powder, orange zest, cinnamon and salt. Whisk until well mixed.
In a large bowl, combine orange juice, milk, melted butter, eggs, vanilla and vanilla bean seeds, if desired. Whisk until well mixed.
Pour the wet ingredients into the dry ingredients, mixing just until combined.
Grease the waffle iron, if needed. Cook waffles in the iron according to iron directions.
Top with orange zest and orange slices, if desired, then serve with maple syrup.