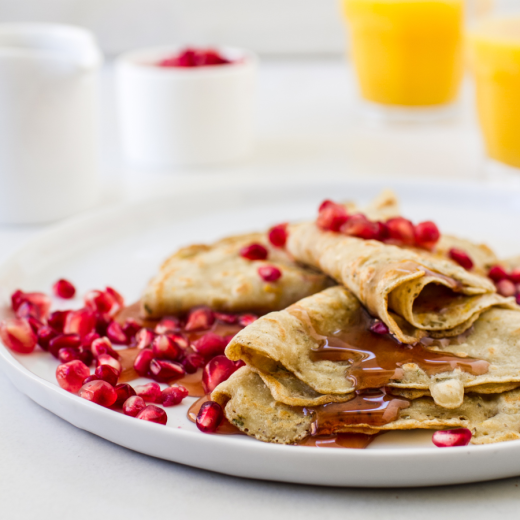 Orange Rosemary Crepes with Pomegranate Syrup
This lightly sweet homemade crepes recipe takes advantage of the French classic's adaptability, marrying flavors of fragrant rosemary, zippy orange and tart pomegranate.
Directions
To Make the Crepes:
In a blender, combine milk, flour, egg, butter, sugar, vanilla and salt. Pulse, scraping down sides if needed, for 10 to 15 seconds, until well blended. Refrigerate batter for at least 2 hours or over night.
Remove batter from refrigerator and let sit for 30 minutes.
Preheat oven to 200 degrees and place 1 or 2 baking sheets in oven to keep crepes warm after cooking.
Add rosemary and orange zest to batter and stir until well combined.
In a cast iron or nonstick skillet over medium-high heat, heat butter.
Once hot, pour a scant 1/4 cup batter in the center of the pan. Tilt pan in a circular motion until batter is as thinly spread out as possible. Cook for about 1 minute, until the edges start to brown and lift away from the pan.
Carefully flip and cook for 30 more seconds, until golden brown. Place crepe in oven to keep warm. Repeat with remaining batter, gently stirring batter before scooping each time and placing each finished crepe in a single layer in the oven.
Remove crepes from oven, roll each crepe or fold into quarters. Top with pomegranate arils and syrup, then serve hot.
To Make the Syrup:
In a saucepan over medium heat, combine pomegranate juice and honey. Stirring, bring to a boil. Reduce to a simmer and let cook, stirring frequently, for 10 to 15 minutes, until a thin, syrup-like consistency is achieved.
Pour into a bowl and refrigerate until chilled and thickened. Remove from refrigerator and bring to room temperature before using, if desired.
Recipe Tip:
To crush the rosemary, place about 1 tablespoon in a clean coffee grinder, spice grinder or mortar and pestle. Grind until rosemary is broken into pieces but not ground into a fine powder.