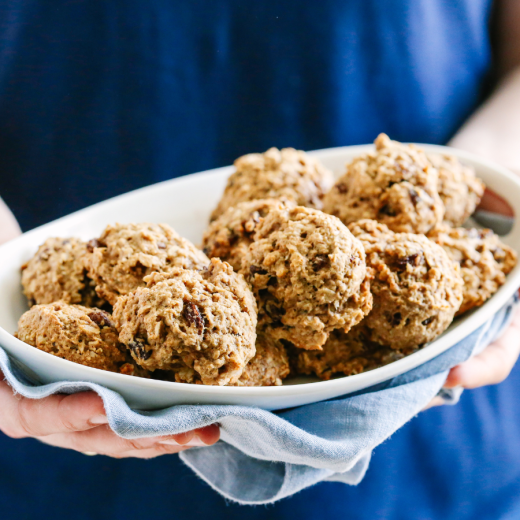 Oatmeal Raisin Breakfast Cookies
A freezer-friendly breakfast cookie recipe made with coconut oil, cinnamon, maple syrup and applesauce. Use organic ingredients where possible.
1/2 cup pure maple syrup
1/2 cup unsweetened applesauce
1/3 cup virgin coconut oil (liquid state)
1 egg
2 teaspoons Simply Organic® Pure Madagascar Vanilla Extract
1 teaspoon Simply Organic® Ground Cinnamon
1 1/2 cups old-fashioned rolled oats
1/3 cup walnuts
1 cup whole white wheat flour
1 teaspoon baking soda
1/2 cup raisins
Directions
Preheat oven to 350 degrees.
In a large bowl, combine maple syrup, applesauce, coconut oil, egg, vanilla extract and cinnamon. Whisk until well combined.
In a food processor, combine oats and walnuts. Pulse for about 20 to 30 seconds, just until coarse.
Stir oats and walnuts mixture, flour and baking soda into the wet ingredients. Add raisins and gently fold until well combined.
Scoop mini cookies onto a cookie sheet. For traditional "cookies," flatten dough with the back of a greased or wet spoon or spatula before baking. For "cookie bites" keep the dough in mounds on the cookie sheet. Bake for 11 to 13 minutes, depending on size.
Serve warm or freeze in an airtight container for up to 2 months. Thaw and reheat before serving.
Notes: For a nut-free version, substitute sunflower seeds for the walnuts.