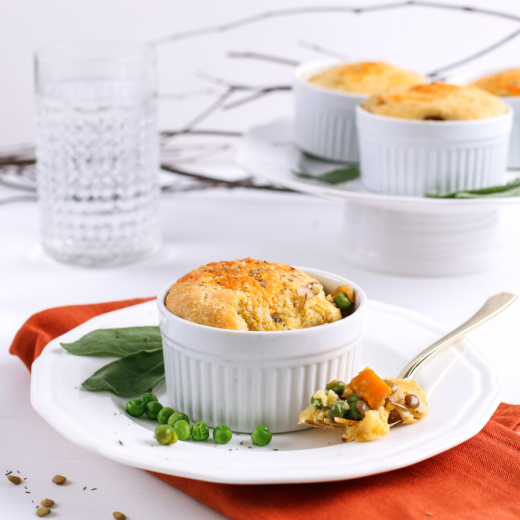 Mini Vegetarian Pot Pie with Sage Cornbread
In this vegetarian pot pie recipe, a savory and warmly spiced lentil filling complements a rustic sage cornbread topping.
For the Lentil Filling:
2 tablespoons olive oil
1 cup chopped red potatoes
1 cup sweet potatoes, peeled
1 cup chopped carrots
1 cup frozen peas
1/2 cup sweet yellow onion, chopped
1/2 cup French lentils
2 teaspoons Simply Organic Ground Sage
1 teaspoon Simply Organic Thyme
1 teaspoon Simply Organic Ground Ginger
1/2 teaspoon Simply Organic Rosemary
1/2 teaspoon sea salt or pink Himalayan salt
1/4 teaspoon Simply Organic Black Pepper
3 cups vegetable broth, plus more if needed
For the Cornbread:
3/4 cup white all-purpose flour
1/2 cup cornmeal
1 teaspoon Simply Organic Ground Sage
2 teaspoons baking powder
1/4 teaspoon sea salt or pink Himalayan salt
1/2 cup whole milk
1 egg
2 tablespoons butter, melted
2 tablespoons pure maple syrup
1/4 cup shredded sharp cheddar cheese, for garnish (optional)
Directions
To Make the Lentil Filling:
In a large pot over medium-high heat, heat olive oil.
Add red potatoes, sweet potatoes, carrots, peas and onion. Sauté for 4 to 5 minutes, until onion is translucent.
Add lentils, sage, thyme, ginger, rosemary, salt and pepper. Stir until well combined. Add 3 cups broth. Bring to a boil, reduce to a simmer and let cook, covered, for 25 minutes, until lentils are soft. If mixture looks dry and/or all the liquid has been absorbed by the lentils and vegetables, add a little more vegetable broth.
To Make the Cornbread:
In a medium-sized bowl, combine flour, cornmeal, sage, baking powder and salt. Stir until well combined.
In a separate bowl, combine milk, egg, butter and maple syrup. Whisk until well blended.
Pour wet ingredients into dry ingredients and stir just until combined.
To Assemble:
Preheat oven to 350 degrees.
Evenly divide lentil mixture among ramekins. Top with about 2 tablespoons cornbread dough, then garnish with cheese, if desired.
Bake for 20 to 25 minutes, then serve warm.
Recipe Tips:
For a filling with more texture, do not peel the potatoes.
If preferred, substitute whole wheat flour for the white all-purpose flour..
To make the cornbread dairy free, substitute almond or coconut milk for the whole milk.
To make the dish vegan, substitute an egg replacement like flax egg for the egg.
For one whole pot pie instead of multiple mini pot pies, assemble and bake in a 9x13-inch pan instead of in ramekins.