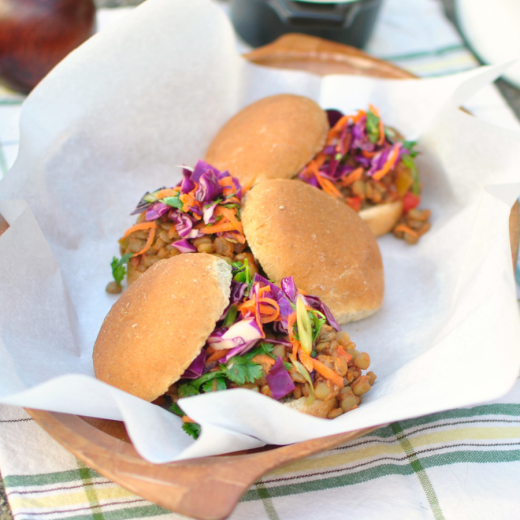 Lentil Sloppy Joes with Cilantro Cabbage Slaw
Sweet, spicy and satisfying, these hearty lentil sloppy joes are a vegetarian-friendly take on the traditional saucy sandwich.
For the Slaw:
2 tablespoons light brown sugar
2 tablespoons olive oil
1 medium lime, juiced
1 jalapeno, seeded and finely diced
1 clove garlic, minced
1 small head of purple cabbage, shredded
1 small bunch of fresh cilantro, chopped
2 green onions, sliced thin on an angle
2 carrots, peeled and grated
1/4 teaspoon sea salt
For the Sloppy Joes:
1 pound organic brown lentils
5 + 1/4 cups water, divided
1 1/2 cups organic ketchup
1 tablespoon Simply Organic Chili Powder
1 teaspoon Simply Organic Cumin
1/8 teaspoon Simply Organic Paprika
1/2 teaspoon sea salt
1/4 teaspoon Simply Organic Black Pepper
2 tablespoons Frontier Maple Syrup Granules
1/2 tablespoon mustard
1/2 tablespoon vinegar
1 tablespoon olive oil
1/2 cup red bell pepper, finely diced
1/2 cup green bell pepper, finely diced
1 medium yellow onion, finely diced
3 cloves fresh garlic, minced
4 whole wheat slider buns
Directions
For the Slaw:
Combine light brown sugar, olive oil, lime juice, jalapeno, garlic, purple cabbage, fresh cilantro, green onions, carrots and sea salt in a large bowl.
Refrigerate for one hour or until ready to serve.
For the Sloppy Joes:
Rinse and drain lentils. Place them into a large saucepan.
Pour in five cups of cool water, cover and bring to a boil.
Reduce heat to medium-low and simmer for 15-20 minutes or until the lentils are tender. Drain and set off to the side.
In a medium bowl, combine the ketchup, chili powder, cumin, paprika, salt, pepper, 1/4 cup water, maple syrup granules, mustard and vinegar. Whisk to combine and set aside.
Preheat a Dutch oven over medium heat with a tablespoon of olive oil. Once the oil is hot, sauté the peppers and onions together until soft and translucent. Next, add in the minced cloves of garlic and cook for 1 to 2 minutes.
Reduce the temperature to low and pour in the sauce. Stir and simmer for 10 minutes. Add the drained lentils, stir to combine and heat for 5 minutes or until warmed through.
Spoon the lentil sloppy joe filling on a whole wheat slider bun and top with the slaw and serve.
Recipe Notes:
Sloppy joe filling can be kept warm in a crock pot set on low or warm setting.
If desired, substitute 1 packet Simply Organic Sloppy Joe seasoning for chili powder, cumin, paprika, salt and pepper when making the sauce.