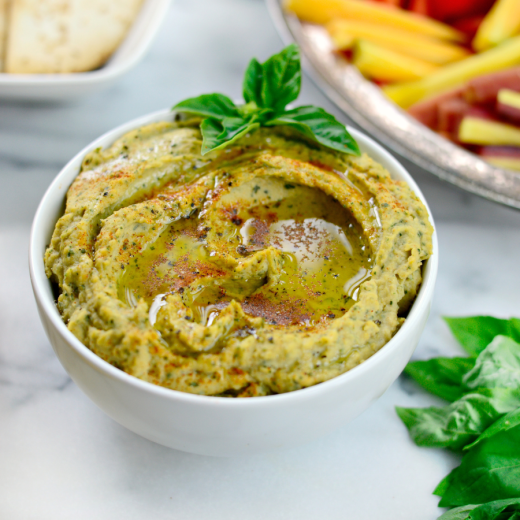 Fresh lemon, basil and garlic meet paprika, onion powder and black pepper in this refreshing, big-flavored hummus.
2 cans (15 ounces each) chickpeas, drained, reserving liquid
1 heaping cup fresh basil leaves, stems removed
2 cloves garlic
1/4 cup tahini
1 1/2 teaspoons sea or Himalayan pink salt
1 teaspoon Simply Organic® Paprika
1/2 teaspoon Simply Organic® Onion Powder
1/4 teaspoon Simply Organic® Black Pepper
1 lemon
1/2 cup olive oil
Extra paprika, black pepper and olive oil for garnish
Directions
In a food processor fitted with blade attachment, add chickpeas, basil, garlic, tahini, salt, paprika, onion powder and black pepper.
With a strainer set over the processor bowl to catch the seeds, squeeze in juice of entire lemon. Secure lid and process while pouring in the olive oil. Ladle in 1/4 to 1/2 cup chickpea liquid until hummus has reached a desired consistency.
Garnish with a drizzle of olive oil, black pepper and a paprika. Serve with fresh vegetables or crisp pita chips.