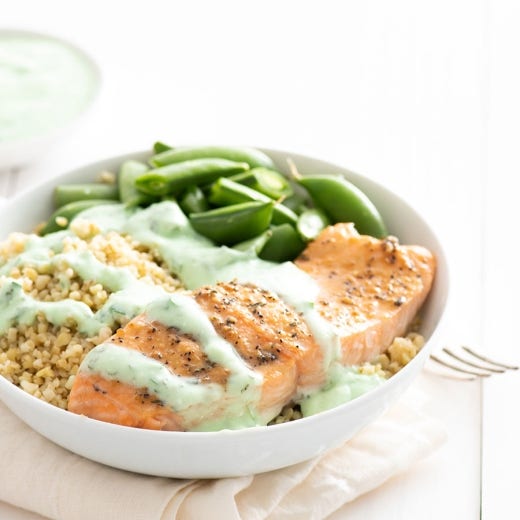 Lemon and Black Pepper Salmon Bowl with Green Goddess Sauce
This savory, protein-rich salmon bowl recipe features tender whole grain bulgur, baked salmon with a Dijon and lemon pepper glaze, and a fresh Green Goddess sauce where Greek yogurt replaces the sour cream and mayonnaise.
1 cup dry bulgur
2 cups water
2 tablespoons Dijon mustard
3 tablespoons fresh lemon juice, divided
1 tablespoon + 1 teaspoon honey, divided
1 1/2 teaspoons lemon zest, divided
1 1/2 teaspoons Simply Organic® Lemon Pepper
4 skin-on salmon fillets (4 ounces each), patted dry
1 bunch flat-leaf parsley, minced and stems discarded
3 sprigs fresh tarragon, minced and stems discarded
1/3 bunch chives, minced
3/4 cup plain fat-free Greek yogurt
1 tablespoon olive oil
3/4 teaspoon anchovy paste
1/2 teaspoon Simply Organic® Garlic Powder
1/4 teaspoon Simply Organic® Black Pepper
Sea salt or pink Himalayan salt, to taste
2 cups snap peas, halved on the bias
Directions
Preheat oven to 450 degrees with rack set in the middle position and line a baking sheet with foil.
In a medium-sized saucepan over medium heat, toast bulgur for 5 minutes. Add water and cook for about 12 minutes, until bulgur is tender. Remove from heat, fluff with a fork and set aside.
In a medium-sized bowl, whisk together mustard, 1 tablespoon lemon juice, 1 tablespoon honey, 1 teaspoon lemon zest and lemon pepper.
On the lined baking sheet, arrange salmon fillets. Brush with glaze and bake for 10 to 12 minutes, until flesh easily flakes with a fork and a thermometer inserted in the center registers 135 to 145 degrees.
In a food processor, combine parsley, tarragon, chives, yogurt, remaining 2 tablespoons lemon juice, olive oil, anchovy paste, remaining 1 teaspoon honey, remaining 1/2 teaspoon lemon zest, garlic powder and black pepper. Blend for 2 minutes until well combined and smooth. Season with salt if desired.
Divide bulgur among serving bowls. Top with salmon, peas and Green Goddess sauce.
Recipe Tip:
To decrease the prep time before serving, make the bulgur, glaze and sauce up to 3 days in advance.