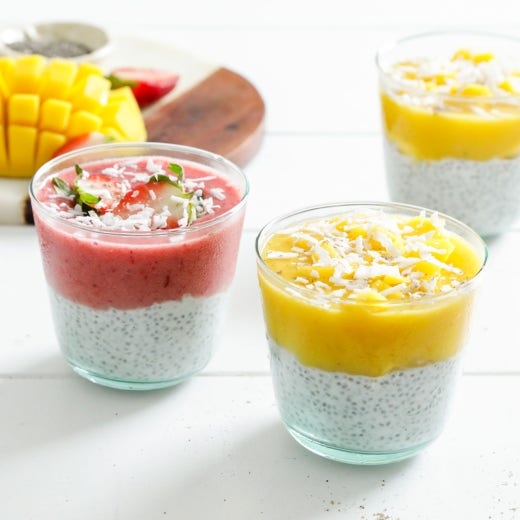 Layered Mango Smoothie and Cardamom Chia Pudding
Give your brunch the perfect finish — or broaden your breakfast horizons — with this luscious chia pudding and mango smoothie recipe. Organic cardamom pairs perfectly with mango (or strawberries if you prefer), melding pudding and smoothie into one dish of pure, spoonable joy.
Directions
Into a quart-sized mason jar (or other similar jar) with a lid, pour coconut milk. If coconut milk has separated, whisk until well blended. Add maple syrup, vanilla and cardamom. Whisk until well combined. Add chia seeds and whisk until well combined.
Place lid on jar and refrigerate for 30 minutes, until chia seeds begin to swell and clump. Remove from refrigerator and shake jar until seeds are loosened and distributed, then refrigerate for an additional 1 1/2 hours or overnight.
Close to when the pudding is ready, use a blender to combine mango or strawberry chunks, banana and water. Mix until well blended, adding more water if needed to achieve desired consistency.
Divide chia pudding among glasses or bowls. Pour smoothie on top, then garnish with toasted coconut and a sprinkle of cardamom.