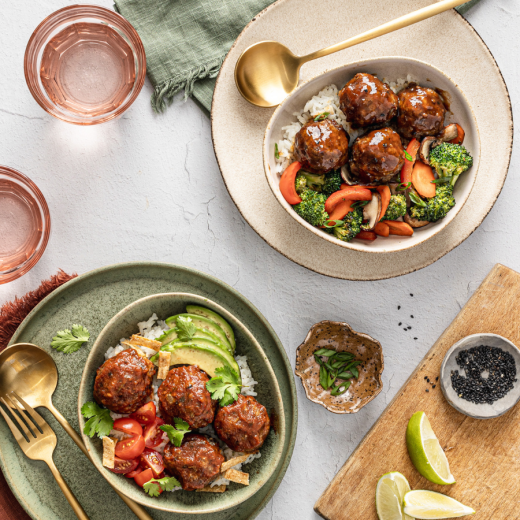 Large-Batch Freezer Meatballs
These freezer meatballs will be a staple at your house. They're easy to put together, and make great dinners. Freeze them for quick and satisfying meals. Reheat in batches with your choice of Simply Organic Simmer Sauces. Mix and match your meat selections with our sauces for a wide variety of tasty options!
2 pounds ground beef or turkey
2 eggs, lightly beaten
1 cup breadcrumbs
½ cup Parmesan cheese, grated
1½ teaspoons Simply Organic® Garlic Powder
1½ teaspoons Simply Organic® Onion Powder
½ teaspoon Simply Organic® Ground Black Pepper
1 teaspoon sea salt
2 pouches Simply Organic® Simmer Sauce of choice
Directions
Preheat oven to 400 degrees and line two large baking sheets with parchment paper.
In a large bowl, place ground meat, eggs, breadcrumbs, Parmesan, garlic and onion powder, black pepper and sea salt. Using a wooden spoon or your hands, mix together thoroughly.
Use a medium cookie scoop or spoon to scoop out meat. Roll into1½- to 2-inch balls and place on prepared baking sheet 1 inch apart. Bake for 12 to 15 minutes until browned and cooked through.
Freeze meatballs in large re-sealable bags until ready to use.
To reheat frozen meatballs, preheat a nonstick skillet over medium heat. Add enough water just to cover bottom of pan and turn heat to low. Place meatballs in pan leaving space between them; cover and cook for 5 to 6 minutes. Transfer to a plate.
Wipe pan dry and return to heat. Pour in one pouch simmer sauce per 16 meatballs. Add meatballs, toss with sauce and bring to a simmer. Serve immediately.
Chef Suggests
Serve over pasta, quinoa, veggie noodles, cauliflower or regular rice, or spaghetti squash. Try with naan, in a wrap, or on a toasted bun.