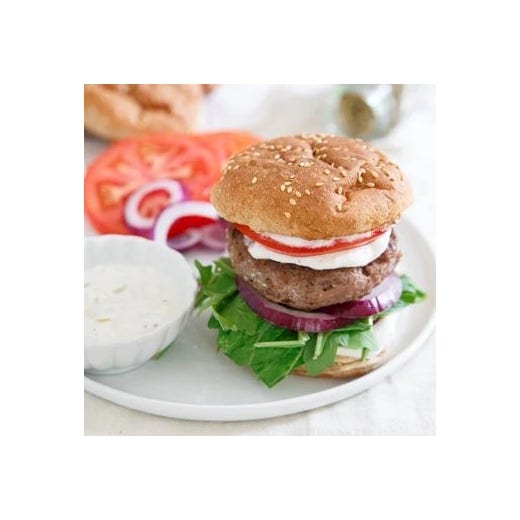 Lamb Burgers with Rosemary Yogurt Sauce
Take a trip to the Mediterranean with this lamb burgers recipe, spiced with traditional Mediterranean spices and served with a simple tangy yogurt sauce.
1 pound ground lamb
7 cloves garlic, minced + divided
1/4 red onion, minced
1 1/2 teaspoons Simply Organic® Cumin
1 teaspoon Simply Organic® Rosemary
3/4 teaspoon sea salt or pink Himalayan salt, divided
1/2 teaspoon Simply Organic® Black Pepper, divided
1 tablespoon extra virgin olive oil
1/3 cup plain Greek yogurt
1 tablespoon lemon juice
4 whole wheat buns
Lettuce and/or arugula, for garnish
Sliced tomatoes, for garnish
Sliced red onions, for garnish
Directions
In a large mixing bowl, combine lamb, 6 cloves minced garlic, onion, cumin, rosemary, 1/2 teaspoon salt and 1/4 teaspoon pepper. With clean hands, mix until well combined.
In a large skillet over medium-high heat, heat olive oil.
Divide meat into 4 even patties. When oil is hot, place patties on skillet and cook for about 3 minutes on each side, until cooked through. Remove from skillet and drain on a plate lined with a paper towel.
In a small mixing bowl, combine yogurt, remaining 1 clove minced garlic, remaining 1/4 teaspoon salt, remaining 1/4 teaspoon black pepper and lemon juice. Stir until well combined.
Assemble burgers on buns, then garnish with yogurt sauce, lettuce and/or arugula, tomatoes and onions.