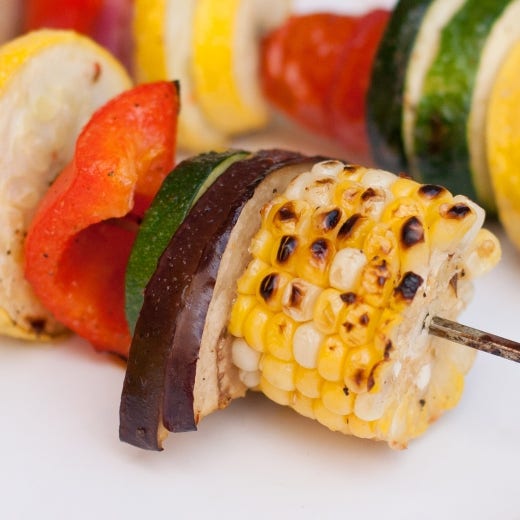 Italian Grilled Vegetable Marinade
Up the flavor of your grilled vegetables with a marinade of garlic, herbs and crushed red pepper. Lace the veggies on skewers for easy flipping and serving.
1 packet Simply Organic® Italian Dressing Mix
2 teaspoons white wine vinegar
1/3 cup water
2/3 cup olive oil
2 ears sweet corn, cut into 2-inch rounds
2 zucchini, sliced
2 yellow squash, sliced
1 small eggplant, halved and sliced
1 red bell pepper, chopped
1 pint grape tomatoes
1 lemon, cut in half
Directions
In a small bowl, combine Simply Organic Italian Salad Dressing Mix, white wine vinegar, water and olive oil. Whisk until well mixed.
In a large bowl, combine corn, zucchini, squash, eggplant, red pepper, tomatoes and all but 2 tablespoons dressing. Toss until vegetables are well coated, then let sit for 1 hour.
Preheat grill and thread marinated vegetables onto skewers. Grill vegetables for about 4 minutes, then flip and cook for 4 more minutes.
Next to the vegetables, place lemon halves cut-side down and grill for 3 to 4 minutes.
Remove vegetables and lemon from grill. Top vegetables with lemon juice and remaining marinade. Serve hot.