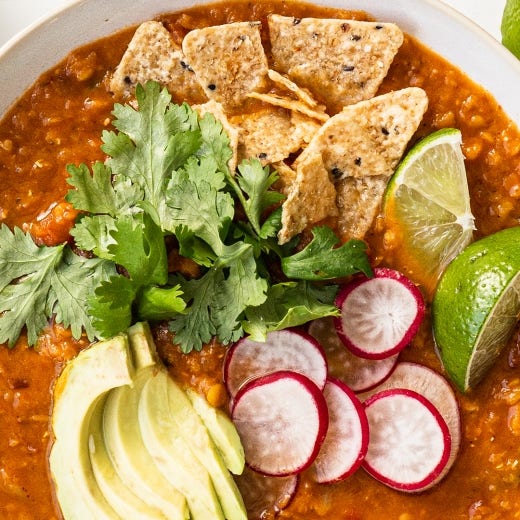 Instant Pot Tortilla Soup with Red Lentils
Simmer down now! We used Simply Organic Mild Taco Simmer Sauce to make this easy Instant Pot® Red Lentil Tortilla Soup. This little packet packs a lot of flavor; it's filled with warm notes of chili, rich and fragrant cumin, tangy tomato and a touch of herbaceous flavor thanks to oregano. The best part? All you have to do is toss the whole thing in the Instant Pot with some red lentils, a few veggies, some stock and diced tomatoes, and you have dinner on the table in 30 minutes. Simply Organic Simmer Sauces are certified organic, non-GMO, contain no artificial colors or flavors and are all vegan-based. Our favorite part? They make getting a flavorful dinner on the table a total breeze!
2 tablespoons olive oil
2 large cloves garlic, minced
1 onion, diced
1 red bell pepper, diced
1 green pepper, diced
1 poblano pepper, diced
1 jalapeño pepper, diced
1 small sweet potato, diced
Kosher salt, as needed
1 chipotle pepper in adobo, chopped, optional
1 1/2 cups split red lentils
1 package (8 ounces) Simply Organic® Mild Taco Simmer Sauce
1 can (14.5 ounces) fire-roasted diced tomatoes
4 cups vegetable stock
Radishes, thinly sliced, for garnish
Fresh cilantro, for garnish
1 avocado, sliced, for garnish
Tortilla chips, for serving
Directions
To Instant Pot, add olive oil and set to 'Sauté' function. Once hot, add garlic, onion, red pepper, green pepper, poblano pepper, jalapeño and sweet potato, and cook for about 5 minutes, or just until vegetables start to soften. Season to taste with salt and pepper.
Add chipotle pepper (if using) then add red lentils, Southwest Taco Simmer Sauce, diced tomatoes and vegetable stock. Stir well to combine. Add lid and set valve to 'Seal.' Set to manual high pressure for 10 minutes. Let pressure release naturally for 10 minutes, then manually release remaining pressure.
Serve soup garnished with toppings of choice.