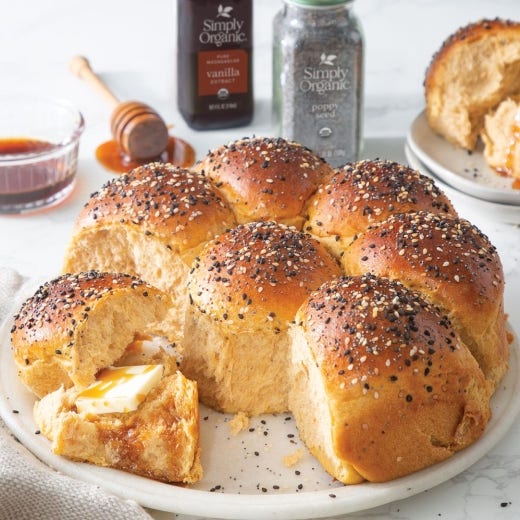 No Thanksgiving meal is complete without some warm, delicious dinner rolls. Sweet Potato, vanilla extract and fresh honey come together to make a side dish that perfectly compliments any meal.
¼ cup unsalted butter
¼ cup honey
½ cup whole milk
¾ cup mashed baked, peeled sweet potato
1 teaspoon Simply Organic® Pure Madagascar Vanilla Extract
1 cup whole wheat flour
2¼ teaspoons instant yeast
1 large egg, lightly beaten
2 teaspoons kosher salt
2½ to 2¾ cups all-purpose flour, divided
4 teaspoons Simply Organic® seeds of choice: White Sesame Seed or Black Sesame Seed and/or Poppy Seed
Directions
In the bowl of a stand mixer fitted with paddle attachment, beat 2½ cups flour, whole wheat flour, yeast and salt at low speed until combined.
In a small saucepan, warm sweet potato, milk, butter, honey and vanilla over low heat until butter is melted and an instant-read thermometer registers 120 to 130 degrees. Add warm sweet potato mixture to flour mixture and beat at low speed for about 1 minute, until combined.
Switch mixer to dough hook attachment. Beat for 12 to 13 minutes, until a smooth, elastic dough forms; if dough is too sticky, add up to remaining ¼ cup flour, 1 tablespoon at a time. Turn out onto a very lightly floured surface and shape into a smooth round.
Lightly oil a medium bowl. Place dough in bowl, turning to grease top. Cover and let rise in a warm, draft-free place (about 75 degrees) for 45 minutes to 1 hour, until doubled in size.
Lightly oil a 9-inch round cake pan.
Punch down dough and turn out onto a lightly floured surface. Divide into 9 portions, shape each into smooth rounds and place in prepared pan. Cover and let rise again in a warm, draft-free place for 35 to 45 minutes, until doubled in size.
Preheat oven to 350 degrees.
Brush top of rolls with egg, and sprinkle with desired seeds.
Bake for 25 to 30 minutes, until deep golden brown and an instant-read thermometer inserted in center registers 200 degrees. Let cool in pan for 5 to 10 minutes. Serve warm.