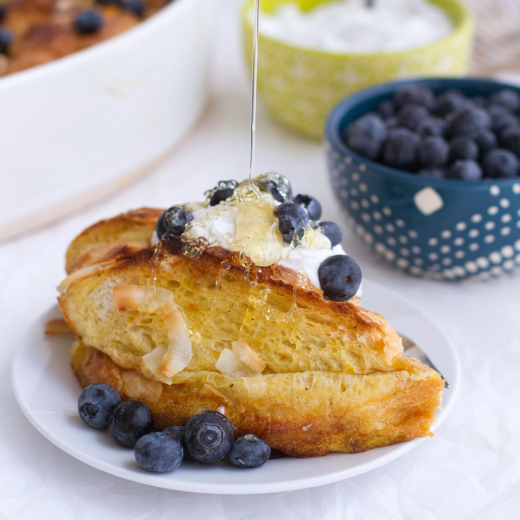 Honey and Cardamom Baked French Toast with Vanilla Bean Coconut Cream
This sweet French toast is baked to golden perfection and features honey and aromatic cardamom, topped with fresh fruit and a dollop of vanilla bean coconut cream.
For the French Toast:
2 tablespoons coconut oil, melted
1 long loaf sourdough bread, cut into thick 1-inch slices (enough to cover bottom of baking dish)
1 1/4 cups canned coconut milk (light or regular will both work here, as would regular milk)
6 large eggs
2 tablespoons honey
1 tablespoon Simply Organic® Pure Madagascar Vanilla Extract
1/2 teaspoon orange zest
1/2 teaspoon Simply Organic® Cardamom
1/4 teaspoon sea or Himalayan pink salt
Fresh berries, for serving
Honey, for serving
For the Coconut Cream:
1 can (15 ounces) full-fat coconut milk, cold
1 tablespoon powdered sugar
1 Simply Organic® Vanilla Bean, halved and seeds scraped out, or 1 tablespoon Simply Organic® Vanilla Bean Paste
Directions
To Make the French Toast:
In a 9x13-inch baking dish, rub melted coconut oil over bottom of dish, then place sliced bread to cover bottom of dish.
In a large bowl, lightly beat together coconut milk, eggs, honey, vanilla, orange zest, cardamom and salt. Spoon egg mixture over all of slices of bread, making sure each slice is moistened. Cover and refrigerate overnight.
The next morning, preheat oven to 350 degrees. Spoon any remaining egg mixture in baking dish over bread, just as you did before. Allow French toast to sit for 20 to 30 minutes at room temperature before baking.
Bake for 25 to 35 minutes, or until golden brown. Remove from oven and allow to cool for 3 minutes. Cut and serve warm with a dollop of Vanilla Bean Coconut Cream, fresh berries and honey, if desired.
To Make the Vanilla Bean Coconut Cream:
Flip cold can of coconut milk upside down and open it from bottom. There should be around 1/2 cup of coconut water at the top. Pour the water into a container and save for another use. Scoop out coconut cream and place in a bowl. Whip cream for 2 to 3 minutes, until soft peaks form. Beat in powdered sugar and vanilla bean seeds. Refrigerate until ready to use.