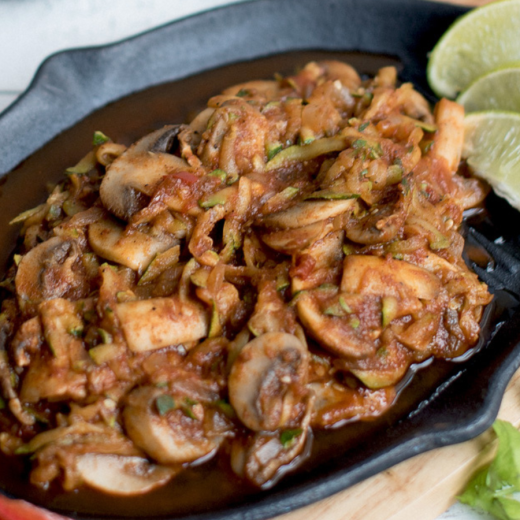 Zucchini and Mushroom Fajitas
Whip up homemade zucchini and mushroom fajitas in minutes. Our Classic Fajita Simmer Sauce gives the vegetables a pleasant, smoky heat.
2 tablespoons olive oil
1 medium-sized onion, diced
8 ounces (about 1 1/2 cups) mushrooms, sliced
4 small zucchini, grated
1 package Simply Organic® Classic Fajita Simmer Sauce
4 large flour tortillas
Salsa, for garnish (optional)
Sour cream, for garnish (optional)
Avocado slices, for garnish (optional)
Fresh cilantro, for garnish (optional)
Lime juice, for garnish (optional)
Directions
In a large skillet over medium heat, heat olive oil. Sauté onions and mushrooms, stirring frequently, for about 3 minutes, until slightly golden.
Add zucchini and sauté for 2 more minutes.
Pour sauce over cooked vegetables and mix until evenly coated. Simmer for 4 more minutes.
Divide mixture among tortillas and garnish with salsa, sour cream, avocado, cilantro and/or a squeeze of lime juice, if desired.