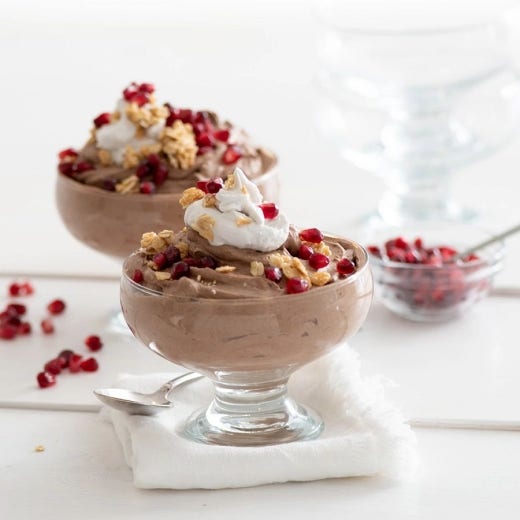 Vegan Chocolate Mousse with Cardamom and Whipped Coconut Cream
This vegan chocolate mousse recipe gets its decadent whipped creaminess from silken tofu and whipped coconut cream, then meets a new dimension of luscious flavor from cardamom and pomegranate arils.
For the Mousse:
4 ounces vegan bittersweet chocolate, chopped
1/3 cup unsweetened cocoa powder
1/4 teaspoon Simply Organic® Cardamom
1 pinch sea salt or Himalayan pink salt
1/2 teaspoon Simply Organic® Pure Madagascar Vanilla Extract
12 ounces soft silken tofu, drained
1/2 cup powdered sugar
For the Whipped Coconut Cream:
3 cans (13.5 ounces each) full-fat coconut milk, chilled
2 cans (5.4 ounces each) coconut cream, chilled
1/2 cup + 2 tablespoons powdered sugar
1/2 teaspoon Simply Organic® Pure Madagascar Vanilla Extract
Granola, for topping (optional)
Pomegranate arils, for topping (optional)
Directions
To Make the Mousse:
In a double boiler or glass bowl set in a pot of low-simmering water, combine chocolate, cocoa powder, cardamom and salt. Cook until chocolate is melted and smooth. Remove from heat and stir in vanilla.
In a blender or food processor, blend tofu until smooth. Add chocolate mixture and powdered sugar. Blend until thoroughly combined, then transfer to a large bowl.
To Make the Whipped Coconut Cream:
Set a stand-mixer bowl in the refrigerator to chill. Fit mixer with whisk attachment.
Gently, without tipping or shaking, open coconut milk and coconut cream cans. Into chilled bowl, scoop solid cream layer from cans and discard liquid.
Whip cream for 2 to 4 minutes, until light and fluffy. Add powdered sugar and vanilla. Whip for 2 to 3 more minutes, until fluffy. Reserve some whipped coconut cream for topping.
To Assemble:
Gently fold remaining whipped cream into chocolate mixture 1/3 at a time.
Scoop mousse into serving cups and chill for at least 30 minutes, and up to 24 hours.
Top chilled mousse with a dollop of whipped coconut cream, granola and pomegranate arils, if desired.
RECIPE TIPS
If you don't mind not having a strictly vegan version and cannot find or prefer not to use vegan chocolate, simply substitute non-vegan bittersweet chocolate.
For an authentic 'vanilla' look to your coconut whipped cream, try Simply Organic® Vanilla Bean Paste in place of the vanilla extract.