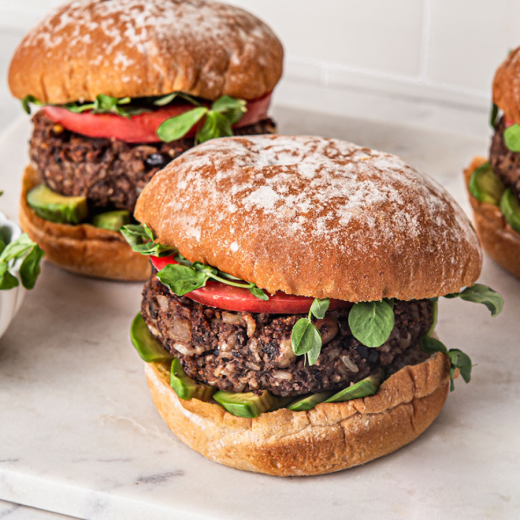 Umami Smoky Veggie Burger
Hearty, rich and flavorful Umami Smoky Veggie Burgers. Gluten free and easy to make — can be grilled, baked or cooked on the stove. This plant-based option will satisfy all your burger cravings!
1 teaspoon avocado oil
1/2 cup onion, diced
12 ounces cremini mushrooms, chopped
1/3 cup raw walnuts
1 can black beans, rinsed and drained
1 cup cooked brown rice
1/2 cup gluten-free panko or rice bread crumbs
1 tablespoon Simply Organic® Sweet & Smoky Umami Blend
1/2 teaspoon Simply Organic® Garlic Powder
3/4 teaspoon Simply Organic® Black Pepper
1/2 teaspoon sea or pink Himalayan salt, or to taste
5 gluten-free or regular burger buns
Directions
In a medium skillet, preheat oil over medium-low heat. Add onion and cook for about 4 to 5 minutes, until softened. Add mushrooms and cook for about 6 to 8 minutes, until all their liquid has been released. Transfer to a bowl and let cool.
Into same pan, add walnuts and cook for about 4 to 5 minutes, stirring frequently until walnuts start to brown. Remove from heat and let cool.
Meanwhile, in a sheet pan lined with a few paper towels, place black beans in a single layer. Place another paper towel on top and press lightly to remove most of the liquid.
In a food processor, place mushroom mixture, toasted walnuts, black beans, brown rice, panko, Umami Blend, garlic powder, black pepper and salt. Pulse a few times until well combined but leaving some chunkiness. Taste and season with more salt if desired.
Divide mixture into 5 patties.
For grilling, heat grill to medium high and place patties on lightly greased aluminum foil. Grill for 6 to 8 minutes per side. For baking, place patties on a baking pan lined with parchment paper and bake at 350 degrees for 10 minutes per side, or until desired texture is reached. For stove-top cooking, lightly coat a skillet with avocado oil and cook, turning halfway through, to desired doneness.
Lightly brush insides of buns with oil, place face-down on grill or skillet and toast lightly. Place veggie burgers on buns and finish with your favorite toppings.