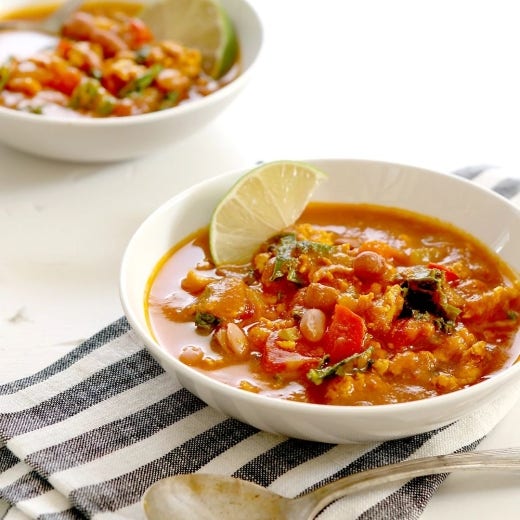 Turkey Pumpkin Chili with Spicy Curry
Seriously hearty comfort food here, loaded with nutrients, earthy flavor and vibrant heat from jalapeños and Simply Organic Spicy Curry Powder.
1 tablespoon extra-virgin olive oil
1 cup diced onion
1 cup diced red bell pepper
2 tablespoons minced jalapeño
3 tablespoons Simply Organic® Spicy Curry Powder
2 tablespoons no-salt-added tomato paste
1 tablespoon Simply Organic® Garlic Powder
1 pound lean ground turkey (93% lean)
1 can (15 ounces) pure pumpkin purée (not pie filling)
1 1/2 teaspoons honey (optional)
1 can (14.5 ounces) no-salt-added diced tomatoes in juice
3 cups low-sodium chicken broth
4 cups chopped fresh kale
1 can (15 ounces) no-salt-added pinto beans
2 tablespoons lime juice
3/4 teaspoon sea or Himalayan pink salt, or to taste
Directions
In a large pot or Dutch oven, heat olive oil over medium heat. Add onion, bell pepper and jalapeño and cook for 5 minutes, until starting to soften.
Add spicy curry powder, tomato paste and garlic powder; cook for 30 seconds until fragrant. Add turkey and cook for 5 minutes, crumbling the meat, until cooked through.
Stir in pumpkin and honey and cook for 3 minutes, until some of the moisture has cooked out.
Stir in diced tomatoes and chicken broth; increase heat to medium-high and bring to a boil. Reduce heat to medium and simmer for 5 minutes.
Stir in kale and beans and cook for 5 minutes, until kale has wilted. Remove from heat heat, stir in lime juice and salt.
RECIPE TIP
The honey helps balance the flavors in the chili, but may easily be omitted if you prefer no added sugar.