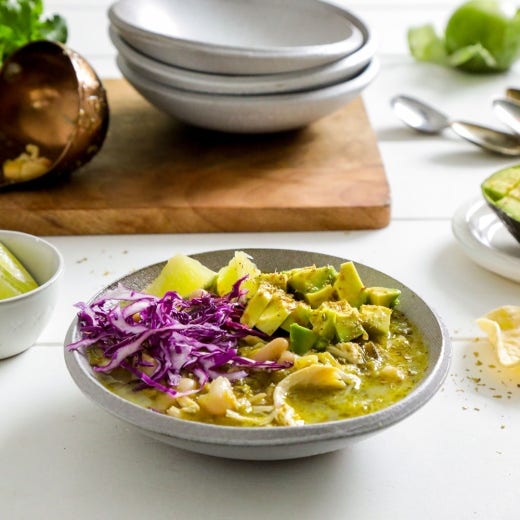 This light, yet satisfying tomatillo green chili recipe is warmly spiced with cumin, coriander and a trio of roasted chili peppers, then paired with tender chicken and cannellini beans.
1 1/2 pounds tomatillos, cut in half and husks removed
2 jalapeños, halved, seeds and ribs removed
1 green bell pepper, halved and seeded
1 poblano pepper, halved and seeded (optional)
6 cloves garlic, peeled
2 tablespoons olive oil, divided
1/2 teaspoon + 1 pinch sea salt or Himalayan pink salt
2 bunches cilantro leaves, rinsed and roughly chopped, plus more for garnish
1 yellow onion, chopped
1 pound boneless chicken, cooked and shredded
1 can (15 ounces) cannellini beans
1 tablespoon Simply Organic® Ground Cumin
2 teaspoons Simply Organic® Oregano
1 teaspoon Simply Organic® Coriander
1 pinch Simply Organic® Cloves
6 cups low-sodium chicken stock
Avocado, for garnish
Red cabbage, for garnish
Lime wedges, for garnish
Directions
Preheat oven to 400 degrees and line a baking sheet with foil.
On baking sheet, place tomatillos, jalapeños, bell peppers and poblano peppers cut-side down in a single, evenly spread layer.
Evenly spread garlic cloves among tomatillos and peppers, then drizzle 1 tablespoon olive oil and sprinkle 1 pinch salt over top.
Roast for about 20 minutes, until tomatillo and pepper skins blister. Remove from oven and let cool.
In a blender, combine tomatillos (skins included), garlic, jalapeño, bell peppers, poblano peppers and cilantro. Pulse until well combined and finely chopped.
In a large stock pot over medium heat, heat remaining 1 tablespoon olive oil. Add onion and sauté, stirring frequently, for about 5 minutes, until onion is tender.
Add chicken, tomatillo and pepper mixture, cannellini beans, cumin, oregano, coriander, clove, remaining 1/2 teaspoon salt, pepper and chicken stock. Stir until well combined.
Simmer for 20 to 30 minutes.
Garnish with avocado, cabbage, cilantro and lime.