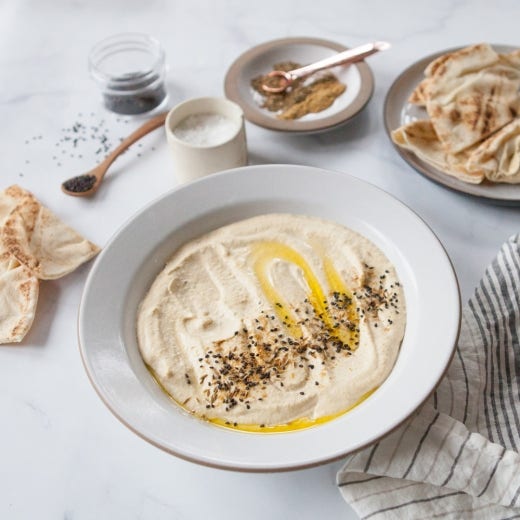 Toasted Black Sesame Seed Hummus
A classic homemade hummus recipe with a toasty twist. Begin with all the traditional ingredients of chickpeas, fresh garlic and tahini for a savory base, then top with coriander, cumin and crisp black sesame seeds for some extra flare and flavor.
Makes 2 1/2 cups.
2 cups cooked chickpeas, drained and rinsed
3 cloves garlic, smashed
3/4 cup tahini
3/4 teaspoon kosher salt
1/4 cup + 2 tablespoons water, divided
Juice from 1 lemon
Simply Organic® Black Pepper, to taste
1/2 teaspoon Simply Organic® Coriander
1/2 teaspoon Simply Organic® Cumin
1 1/2 tablespoons Simply Organic Black Sesame Seed
Extra-virgin olive oil
Pita bread or gluten-free alternative, for serving
Directions
In a food processor, combine chickpeas and garlic. Pulse until roughly chopped.
Add tahini, salt, ¼ cup water and lemon juice and process for about 30 seconds, until smooth.
Add remaining 2 tablespoons water slowly and process until desired consistency is achieved. Taste and season with additional salt and/or pepper if desired.
Transfer to a serving dish and top with coriander, cumin, black sesame seeds and a drizzle of olive oil. Serve immediately or refrigerate for up to 1 week.