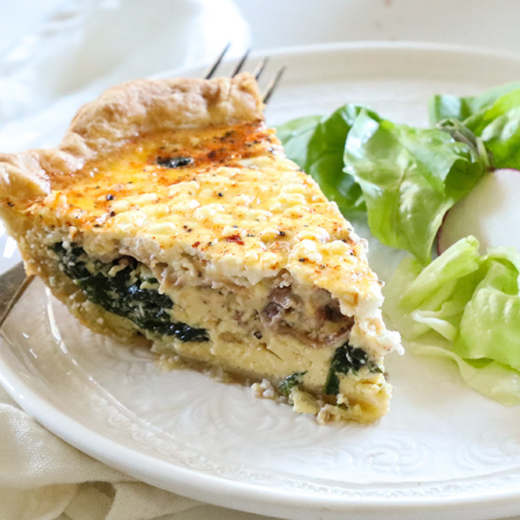 Spinach Prosciutto Quiche with Goat Cheese
A hearty and flavorful quiche made with spinach, prosciutto, goat cheese, garlic powder and smoked paprika.
1 pie crust (9 inches)
2 tablespoons unsalted butter
1 shallot, finely chopped
4 cups baby spinach
6 slices prosciutto
2/3 cup goat cheese crumbles
5 eggs
1 cup whole milk
1 teaspoon sea salt or pink Himalayan salt
1 teaspoon Simply Organic® Black Pepper
1/2 teaspoon Simply Organic® Garlic Powder
1/2 teaspoon Simply Organic® Smoked Paprika
Directions
Preheat oven to 375 degrees and place pie crust in a pie dish.
In a skillet over medium heat, melt butter. Add shallot and sauté for 2 minutes. Add spinach and stir until wilted. Remove from heat and spread spinach mixture in the bottom of the pie crust.
Spread prosciutto and goat cheese crumbles over top of the spinach.
In a large bowl, combine eggs, milk, salt, pepper, garlic powder and smoked paprika. Whisk until well combined, then pour over top of spinach, prosciutto and goat cheese.
Bake quiche for 45 to 50 minutes, until firm in the center. Remove from oven and allow to cool for at least 10 to 15 minutes before slicing and serving.