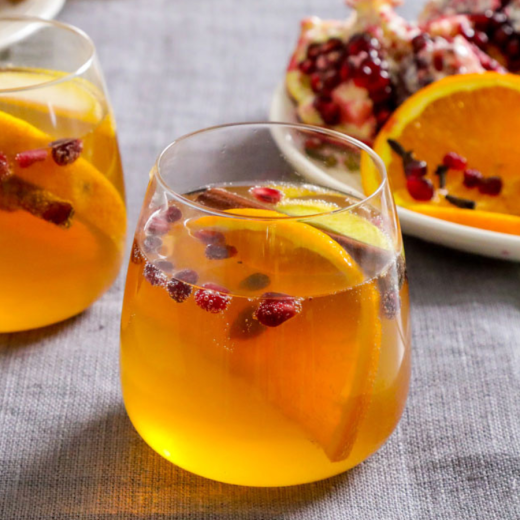 This sangria recipe spiced with the warm flavors of cinnamon, clove and cardamom is a wonderful wintery spin on the classic fruity drink.
FOR THE SYRUP:
4 sticks Simply Organic® Cinnamon Sticks
1/2 teaspoon Simply Organic® Cardamom
1 orange, thinly sliced
1 tablespoon coconut sugar
1 cup water
FOR THE SANGRIA:
1 bottle rosé wine, chilled
16 ounces sparkling apple cider, chilled
Arils of 1 pomegranate
1 orange, thinly sliced
1 pear, cored and thinly sliced
Directions
To Make the Syrup:
In a small pot over medium-high heat, combine cinnamon sticks, cloves, cardamom, orange slices, coconut sugar and water. Bring to a boil, then reduce heat and simmer for 5 to 10 minutes.
Into a jar, strain the liquid and let cool.
To Make the Sangria:
In a large carafe or pitcher, combine cooled syrup, rosé and sparkling apple cider. Stir until well blended.
Add pomegranate arils, orange slices and pears slices. Serve chilled.
RECIPE TIP:
If you don't have whole cloves handy, substitute 1/4 teaspoon of ground cloves in the syrup.