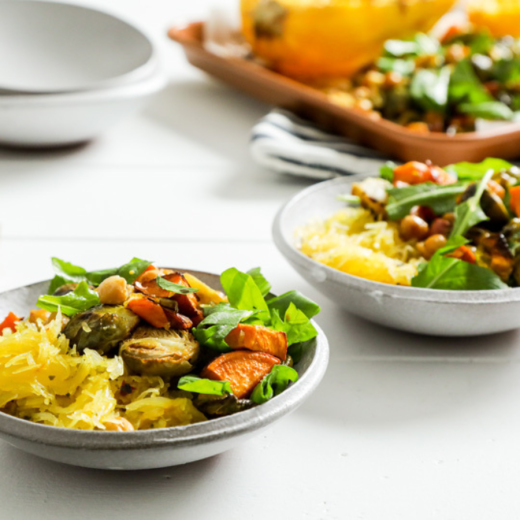 Spaghetti Squash Sheet Pan Dinner
"Spaghetti primavera" on a single sheet pan, featuring spaghetti squash, leek, Brussels sprouts, sweet potato, garbanzo beans and arugula, brought to life with herbs, crushed red pepper, fresh lemon and Parmesan cheese.
1 spaghetti squash (about 2 pounds), halved and seeded
3 tablespoons olive oil, divided
1 teaspoon Simply Organic® Garlic Powder, divided
1/2 teaspoon Simply Organic® Crushed Red Pepper, plus more for garnish
1/2 teaspoon Simply Organic® Basil
1/2 teaspoon Simply Organic® Parsley
Sea salt or pink Himalayan salt, to taste
Simply Organic® Black Pepper, to taste
1 leek, sliced (white and light green parts only)
3/4 pound Brussels sprouts, halved
1 medium sweet potato, chopped
1 can (15 ounces) garbanzo beans, drained and rinsed
2 cups arugula
Juice and zest of 1/2 lemon
Parmesan cheese, shredded, for garnish
Directions
Preheat oven to 400 degrees and line a sheet pan with parchment paper.
Place squash halves cut-side up on work surface. Drizzle 1 tablespoon olive oil evenly over squash. Sprinkle 1/2 teaspoon garlic powder, crushed red pepper, basil, parsley, salt and pepper evenly over squash.
On prepared sheet pan, evenly spread leek, Brussels sprouts, sweet potato and garbanzo beans. Drizzle with remaining 2 tablespoons olive oil, then sprinkle with salt and remaining 1/2 teaspoon garlic powder. Toss until evenly coated.
Push vegetables to outside edges of pan. Place spaghetti squash cut-side down in center of pan. Roast for 25 minutes. Stir leeks, Brussels sprouts, sweet potatoes and garbanzo beans, then roast for another 20 to 25 minutes, until squash is soft when pierced with a fork.
Remove from oven and allow to cool for about 10 minutes, until squash can be handled with a towel.
Remove squash from sheet pan. Add arugula and lemon zest to vegetables and toss until well combined.
Use a fork to shred squash into a large bowl.
Spoon vegetables over shredded squash or divide squash into small bowls and top with vegetables. Garnish with crushed red pepper and Parmesan cheese.
Recipe Tip:
To decrease the prep time before serving, cut the vegetables a day in advance.