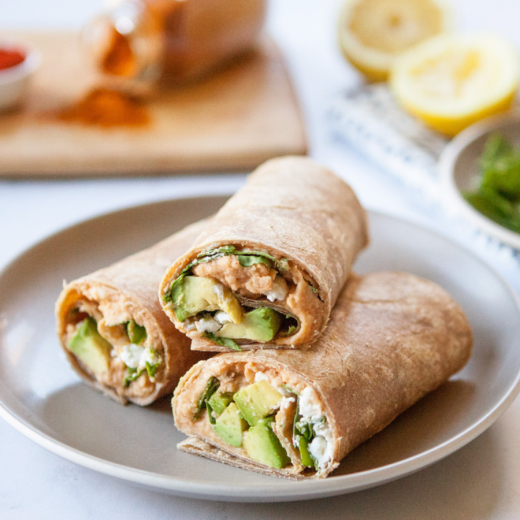 Smoky Avocado and White Bean Wrap
Perfect for backyard barbecues or potlucks, these protein-packed white bean and avocado wraps feature a vibrant, zesty white smoky spread that doubles as a great dip for fresh veggies or pita chips.
1 can (15 ounces) white beans, rinsed
1 tablespoon olive oil
2 tablespoons lemon juice
2 cloves garlic, peeled and halved
1/2 teaspoon sea salt or pink Himalayan salt
1/4 teaspoon Simply Organic® Smoked Paprika
1/4 teaspoon Simply Organic® Cayenne
1/2 teaspoon Simply Organic® Cumin
4 large tortillas
1 ripe avocado, sliced
2 cups baby spinach, coarsely chopped
2 ounces (heaping 1/3 cup) crumbled goat cheese
Directions
In a food processor or blender, combine beans, olive oil, lemon juice, garlic, salt, smoked paprika, cayenne and cumin. Blend until smooth.
On each tortilla, spread a thick layer of bean mixture. Layer avocado slices, spinach and goat cheese on top of bean mixture.
Fold up bottoms of tortillas and roll into wraps. Slice each in half, if desired, and serve immediately.