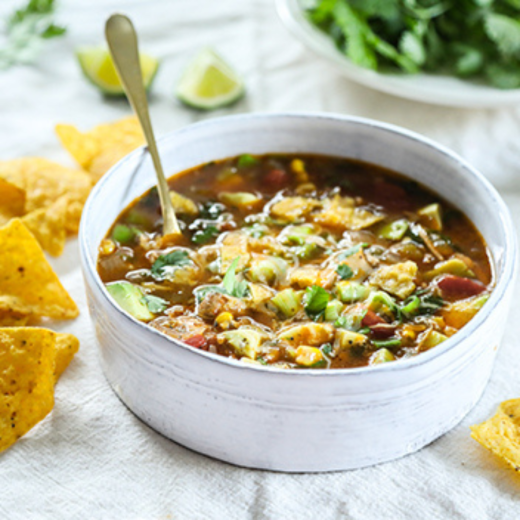 Slow Cooker Spicy Chicken Soup with Avocado and Lime
Kick up the heat with the spices in this tomato-free slow cooker spicy chicken soup, then cool it down with fresh avocado and lime.
For the Soup:
1 tablespoon extra virgin olive oil
4 boneless, skinless chicken thighs (about 1 1/2 pounds)
1 pinch salt
1 pinch Simply Organic® Black Pepper
1 medium onion, chopped
4 cloves garlic, minced
6 cups chicken or vegetable broth
1 14.5-ounce can diced green chilies
2 teaspoons Simply Organic® Chili Powder
1 teaspoon Simply Organic® Oregano
1 teaspoon salt
1/2 teaspoon Simply Organic® Smoked Paprika
1/2 teaspoon Simply Organic® Black Pepper
1 avocado, cut into chunks
1/2 small bundle fresh cilantro, chopped
1 lime, juiced
Garnishes:
Lime wedges
Shredded cheddar cheese or dairy-free equivalent
Tortilla chips
Sliced green onion
Directions
In a skillet over medium-high heat, warm the oil. Sprinkle chicken thighs with a pinch of salt and pepper, and add to hot skillet. Brown thighs for about 5 minutes per side, then transfer to slow cooker. Keep skillet on medium-high heat.
Add onion to skillet. If there is not enough oil/fat leftover from cooking the chicken, add a drizzle of oil. Sauté onions for 5 minutes, until translucent. Add garlic and sauté for 1 minute, stirring frequently.
Into slow cooker, add onion and garlic mixture, broth, green chilies, chili powder, oregano, salt, smoked paprika and pepper. Stir and cover with lid. Cook on low for 8 hours, until chicken is fully cooked and easily shreds (cooking times may vary slightly depending on the slow cooker).
Remove chicken from slow cooker and shred with two forks, then return to slow cooker. Stir in avocado, cilantro and lime juice.
Serve hot with lime wedges, cheese, tortilla chips and green onion.