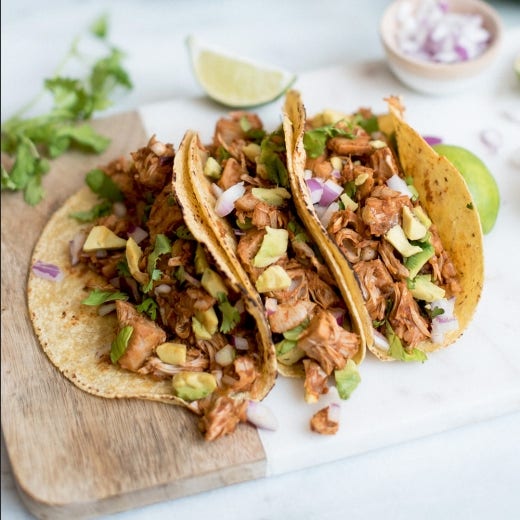 Shredded Jackfruit Southwest Tacos
These shredded jackfruit tacos are hearty and full of fresh flavor. Cooked in our tomato-based Southwest Taco Simmer Sauce, the jackfruit takes on the warm notes of chili peppers, rich cumin and savory oregano.
1 tablespoon oil
1 yellow onion, thinly sliced
4 cloves garlic, minced
2 cups jackfruit, chopped
8 corn tortillas
1/2 avocado, sliced, for topping
1/2 small red onion, thinly sliced, for topping
2 tablespoons cilantro, chopped, for topping
Juice of 1 lime wedge, for topping
Directions
In a large skillet over medium-high heat, heat oil. Add onion and garlic. Sauté, stirring frequently, for about 5 minutes, until the onions have softened and are beginning to brown.
Add jackfruit and simmer sauce. Stir until well blended. Cover the pan, reduce heat and let simmer for about 5 minutes, until the jackfruit softens a bit.
Use a potato masher to mash the jackfruit until a shredded texture is achieved. If it's wetter than desired, cook it a little longer. If it's drier than desired, add a splash of water.
Warm tortillas in foil. Add a scoop of the jackfruit to each tortilla, then top with avocado, onion, cilantro and a squeeze of lime. For additional spice, add a pinch of smoked paprika or a splash of hot sauce.