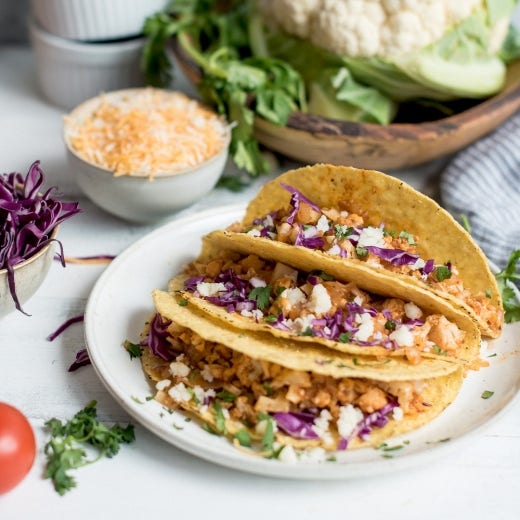 Sautéed Cauliflower Mild Tacos
These easy cauliflower tacos are vibrantly seasoned with our Mild Taco Simmer Sauce featuring notes of cilantro, lime and three different varieties of chilies.
2 small heads cauliflower, cut into florets and stems trimmed
2 tablespoons avocado or other high-heat oil
1 medium onion, diced
1/2 teaspoon Simply Organic® Cumin
1 package Simply Organic® Mild Taco Simmer Sauce
8 corn tortillas
Optional add-ins: lime wedges, fresh cilantro, chopped tomatoes, shredded cabbage, sliced avocado, shredded cheese, salsa, sour cream
Directions
In 3 batches, break up the florets into a food processor and pulse until the mixture resembles chunky couscous.
In a large skillet over medium-high heat, heat oil. Sauté onion for about 4 minutes, until golden brown.
Add cauliflower and cumin, then cook for another 4 minutes until soft.
Pour simmer sauce over veggies, stir and heat through.
Serve in warm tortillas with desired toppings.