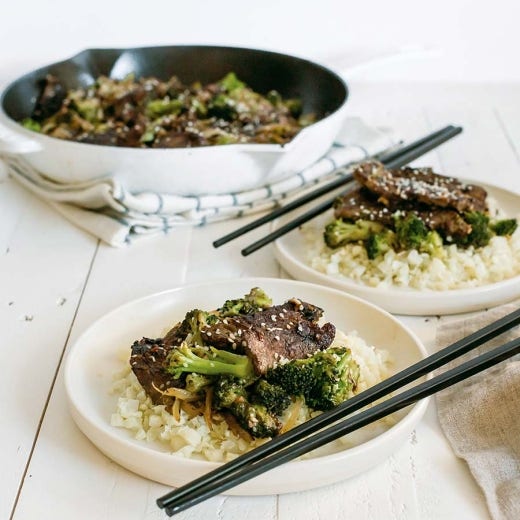 Saucy Beef and Broccoli Stir Fry with Cauliflower Rice
Our Savory Steak Marinade Mix serves a dual purpose in this flavor-packed stir fry recipe featuring notes of black peppercorn, garlic and sesame.
3 tablespoons water
1/4 cup soy sauce
2 tablespoons arrowroot powder
2 tablespoons white vinegar
2 tablespoons toasted sesame oil
1 tablespoon olive or avocado oil
2 cloves garlic, minced
1 pound flank steak or boneless sirloin, trimmed and sliced into 2-inch strips
3 tablespoons high-heat oil (such as grapeseed or peanut), divided
1 small yellow onion, sliced into thin strips
1 pound broccoli florets, fresh or frozen (if frozen, no need to thaw)
16 ounces cauliflower rice, cooked
Directions
In a small mixing bowl, whisk together marinade mix, water, soy sauce, arrowroot powder, vinegar, toasted sesame oil, olive or avocado oil, garlic and sesame seeds.
In a large mixing bowl, combine beef and half the marinade. Set remaining marinade aside. Stir until beef is well coated.
Let beef marinate at room temperature for 30 minutes or in refrigerator over night.
In a large skillet over medium heat, heat 2 tablespoons high-heat oil. Add onion and sauté for 3 to 4 minutes, stirring frequently, until translucent.
Add broccoli, cover and cook for 6 to 7 minutes (if using fresh), until bright green and tender (if using frozen broccoli, cook for about 3 minutes, until broccoli is cooked through). Remove broccoli-onion mixture and set on a plate.
Add remaining 1 tablespoon high-heat oil to the skillet and increase heat to medium-high. Add beef strips, carefully spreading them out into a single layer. Cook for 1 minute on each side, until brown on both sides.
Reduce heat to medium, return broccoli-onion mixture to skillet and add remaining marinade. Cook for about 2 minutes, until sauce is warmed through and thickened.
Serve over cauliflower rice, topped with sesame seeds.