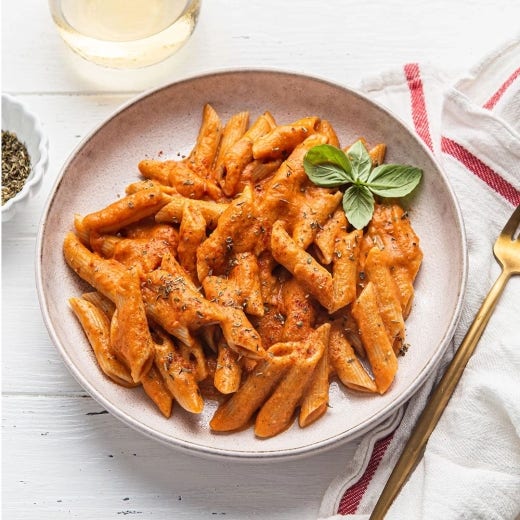 Roasted Red Pepper Pasta with Hot Paprika
A Roasted Red Pepper Pasta with Hot Paprika that comes together with just a handful of ingredients in less than an hour. Savory, dairy-free but perfectly creamy with a spicy kick.
8 ounces pasta of choice
1/4 cup reserved pasta water
2 red bell peppers, halved, seeds and stems removed (about 15 ounces)
1 medium onion, quartered
2 garlic cloves
1/3 cup full-fat coconut milk
1 1/2 teaspoons Simply Organic® Hot Paprika
1 teaspoon Simply Organic® Italian Seasoning
1/8 teaspoon Simply Organic® Black Pepper
1/4 teaspoon Himalayan pink salt, or to taste
Optional Garnishes:
Grated Parmesan cheese or nutritional yeast
Fresh basil
Directions
Cook pasta according to directions on package. Drain, reserving ¼ cup pasta water. Set pan of pasta aside.
Meanwhile, preheat oven to 425 degrees. Line a large baking sheet with parchment paper.
On lined baking sheet, place red peppers, onion and garlic cloves and roast for 20 to 25 minutes, until pepper skins are charred and peppers have collapsed.
Remove from oven, cover peppers with a large piece of foil and let sit for about 15 minutes. (This process makes the skins easier to remove.) Remove pepper skins.
In a food processor, place red peppers, onion, garlic, coconut milk, hot paprika, Italian seasoning and black pepper. Blend until smooth and creamy.
Thin out sauce with reserved pasta water. Taste and season with salt and more black pepper as needed.
Transfer to saucepan with cooked pasta and toss to combine. Warm gently if needed over medium-low heat.
Divide between four bowls, garnish and serve.