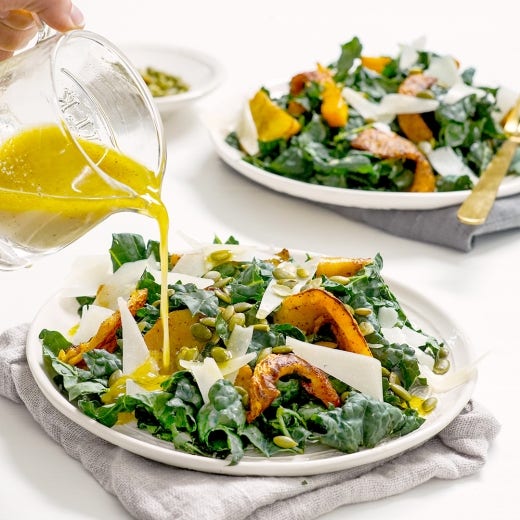 Roasted Five Spice Butternut Squash and Kale Salad
This richly colored, roasted butternut squash salad is perfect autumn side dish or vegetarian entree! Butternut squash is expertly flavored with five spice, chili powder and smoked paprika, then served over a kale salad with pepitas, shaved Manchego and a tangy apple cider vinaigrette.
1/4 cup + 2 tablespoons olive or avocado oil, plus more for coating pan
1 1/2 teaspoons Simply Organic® Garlic Powder, divided
1 teaspoon Simply Organic® Chili Powder
1 teaspoon Simply Organic® Onion Powder
1 teaspoon Simply Organic® Smoked Paprika
1/2 teaspoon Simply Organic® Five Spice Powder
¾ teaspoons sea or pink Himalayan salt, divided
1 medium butternut squash (about 1 ½ pounds or 4 cups)
8 cups lacinato kale, roughly chopped
1/4 cup apple cider vinegar
2 tablespoons minced shallot
2 teaspoons Dijon mustard
2 teaspoons honey
Simply Organic® Black Pepper, to taste
3 tablespoons roasted, salted pepitas (pumpkin seeds)
2 ounces shaved Manchego cheese
Directions
Preheat oven to 400 degrees. Lightly coat a baking sheet with oil.
In a large bowl, whisk together 2 tablespoons oil, 1 teaspoon garlic powder, chili powder, onion powder, smoked paprika, five spice and ½ teaspoon salt.
Peel skin from squash, cut in half lengthwise and scoop out seeds. Slice squash crosswise into ½-inch slices; add to bowl with oil and spices and toss to coat. On prepared baking sheet, arrange squash in a single layer and roast 20 to 25 minutes until browned; let cool.
Meanwhile, in a large serving bowl, lightly massage kale for 30 seconds until slightly tenderized.
In a medium bowl, whisk together remaining ¼ cup oil, cider vinegar, shallot, Dijon, honey, remaining ½ teaspoon garlic powder, remaining ¼ teaspoon salt, and pepper to taste.
Add vinaigrette to kale and toss to coat. Add squash, pepitas and Manchego, toss again to combine, and serve.