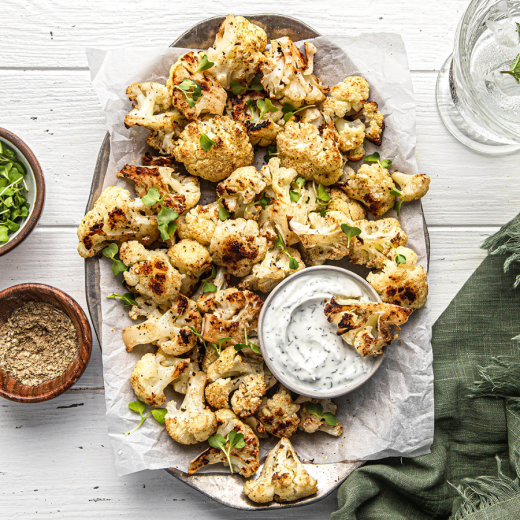 Homemade Roasted Cauliflower Umami Bites
These Roasted Cauliflower Umami Bites are such an easy and delicious side dish or appetizer, you won't want to miss them! Made with our Roasted Garlic and Herb Umami Blend and just a few other ingredients in 30 minutes or less.
1 head cauliflower, cut into bite-size florets
2 tablespoons avocado oil
1 tablespoon Simply Organic® Roasted Garlic & Herb Umami Blend
1/2 teaspoon Simply Organic® Garlic Powder
1/2 teaspoon Simply Organic® Onion Powder
1/2 teaspoon sea or pink Himalayan salt, or to taste
Directions
Preheat oven to 450 degrees.
In a medium bowl, toss cauliflower with avocado oil, Umami Blend, garlic, onion and salt.
Line a baking sheet with parchment paper. Transfer seasoned cauliflower to pan and roast for about 25 to 30 minutes, until tender and golden brown.