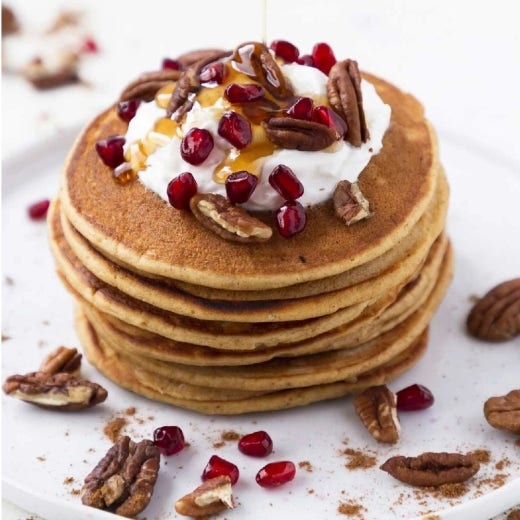 There's nothing quite like the smell of Pumpkin Spice in the morning! Simply Organic Pumpkin Spice stars in a homemade pumpkin purée and then we used it to make a stack of fluffy Pumpkin Spice Pancakes. They're just what your weekend needs!
FOR THE PUMPKIN SPICE PURÉE
2 (2 1/2) lb) sugar pie pumpkins
1 1/2 teaspoons Simply Organic® Pumpkin Spice
FOR THE PANCAKES:
2 cups whole wheat or all purpose flour, sifted
1/4 cup sugar
2 teaspoons Simply Organic® Pumpkin Spice
2 teaspoons baking powder
1/2 teaspoon baking soda
Pinch salt
2 eggs
1 tablespoon Simply Organic® Pure Vanilla Extract
1 1/2 cups buttermilk
1 tablespoon maple syrup
2 tablespoons unsalted butter, melted and cooled, plus more at room temperature for cooking
for serving: toasted pecans, maple syrup, additional Simply Organic® Pumpkin Spice, pomegranate arils
Directions
For the Pumpkin Spice Purée:
Preheat the oven to 400˚F and line a baking sheet with parchment paper. Thoroughly wash and dry your pumpkins. With a sharp chef's knife, carefully trim off the stem end of the pumpkin so the flesh is exposed. Halve the pumpkin lengthwise, then scoop and discard the seeds. Sprinkle each half with the Simply Organic® Pumpkin Spice, then place cut side down on the prepared baking sheet.
Place baking sheet in the oven and roast for about 40-45 minutes or until the outer skin begins to collapse and the inner flesh is very soft. Let cool slightly, then scoop the flesh from the skin and place flesh in a high speed blender or food processor. Discard skin.
Process the pumpkin flesh until smooth. Let cool completely before using or storing. Pumpkin purée can be stored in the fridge in an airtight container for up to 5 days, or in a freezer save jar or bag for up to 2 months. Makes 4-5 cups.
For the Pancakes:
In a large bowl, whisk together the flour, sugar, Simply Organic® Pumpkin Spice, baking powder, baking soda and salt. In a separate medium-sized bowl, whisk together the eggs, Simply Organic Pure Vanilla Extract, pumpkin purée, buttermilk and maple syrup.
Whisk the wet ingredients into the dry ingredients until smooth, then whisk in the butter. Let batter rest for 15-20 minutes (if possible).
When ready to cook, preheat the oven to 200˚F and line a baking sheet with parchment paper. Heat a large griddle or skillet over medium-low heat for 2 minutes, then add a pat of butter. When butter has melted, add the batter (about ¼ cup for each pancake) making sure not to crowd the pan. Cook on the first side until bubbles start to form in the top of the batter, then flip. Cook the pancakes on the other side for about 2-3 minutes, then place on the prepared baking sheet and put in the oven to keep warm.
Repeat this process with the remaining batter, adding more butter to the skillet as needed.
Serve the finished pancakes with maple syrup, and extra dusting of pumpkin spice and a few pomegranate arils.