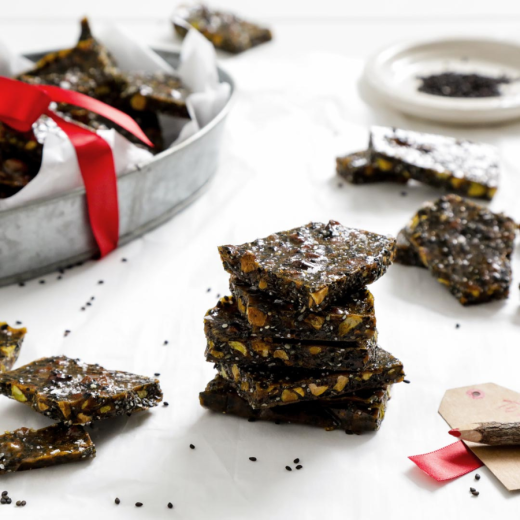 Pistachio and Black Sesame Brittle
Earthy, rich black sesame seeds amplify the toasty, nutty flavor in this re-visioned nut brittle recipe. With its gentle snap and just the right touch of salt, this buttery sweet treat just might become your new holiday classic.
Directions
Line a large baking sheet with foil or a silicone baking mat, and spray or brush lightly with oil.
Chop pistachios into approximately ¼-inch pieces and set aside. On a separate, dry sheet pan, spread sesame seeds evenly and toast in a 350-degree oven for 8 to 10 minutes, or until they smell pleasantly nutty. Set both aside.
In a deep saucepan over medium heat, combine sugar, water, corn syrup, butter and sea salt. Bring mixture to 260 degrees*, stirring frequently (this may take about 10 minutes). Mix in pistachios and sesame seeds. Increase heat to medium-high and bring to 300 degrees without stirring (may take 10 to 15 minutes).
Remove from heat and carefully stir in vanilla, then baking soda. Immediately pour brittle onto prepared baking sheet. Using the back of a large, lightly oiled spatula, spread brittle into an even layer — the thinner the better. (If having trouble, spread with lightly oiled or gloved hands, once cool enough to handle.) Sprinkle with finishing salt.
Let cool completely, about 20 minutes. Break brittle into large pieces and store in an airtight container for up to 1 month.