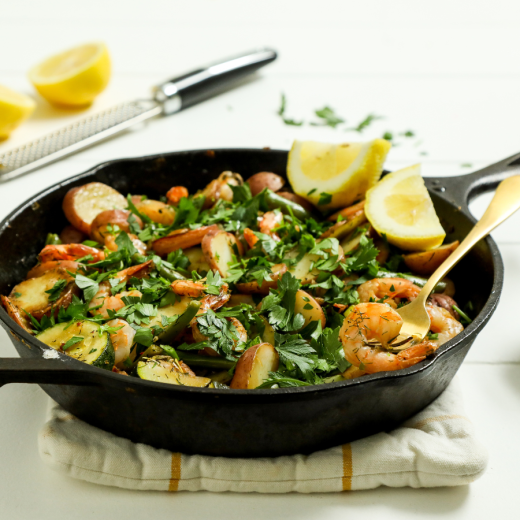 One-Pan Shrimp and Vegetable Skillet with Dill
Tender shrimp, baby red potatoes and fresh summer vegetables never tasted so good — sautéed, seasoned with lemon, dill and our signature Grind to a Salt, then served with a creamy horseradish yogurt sauce.
1 pound (21 to 30 count) large raw shrimp, tail on, peeled and deveined
½ teaspoon sea or Himalayan pink salt, divided
1½ teaspoons Simply Organic® Dill Weed, divided
1 teaspoon Worcestershire sauce
1 lemon, juiced and zested, divided
2 tablespoons olive oil, divided
1 1/2 cups (8 ounces) baby red potatoes, cut into 1/4-inch thick rounds
1 medium white onion, quartered and cut into 1/2-inch thick slices
1/3 pound green beans, cut into 1-inch pieces
2 small zucchini, halved lengthwise and cut into 1/2-inch thick slices
2 tablespoons fresh parsley, minced
3/4 cup plain low-fat yogurt
2 teaspoons capers, drained and roughly chopped
1 1/2 teaspoons prepared horseradish
1/2 teaspoon Simply Organic Garlic Powder
Lemon wedges, for serving
Directions
In a large bowl, toss shrimp with 1/2 teaspoon Umami Blend, ¼ teaspoon salt, 1 teaspoon dill weed, the Worcestershire sauce and 1 teaspoon lemon zest. Set aside.
In a skillet over medium heat, heat 1 tablespoon olive oil. Arrange potatoes in a single layer and cook for 2 to 3 minutes on each side, until golden brown.
Add onion and green beans. Cook for 5 minutes, stirring occasionally, until starting to soften. Add zucchini and remaining 1/2 teaspoon Umami Blend and ¼ teaspoon salt. Cook for 6 to 8 minutes, until zucchini starts to brown and soften, then transfer vegetables to a bowl.
In now empty skillet, heat remaining 1 tablespoon olive oil. Add shrimp and cook for 2 to 3 minutes, stirring occasionally, just until pink and opaque. Add vegetables back to the skillet, stir to combine and cook until heated through. Top with parsley.
In a medium-sized bowl, whisk together yogurt, 1 tablespoon lemon juice, capers, horseradish, remaining 1/2 teaspoon dill, 1/2 teaspoon lemon zest and garlic powder.
Pour sauce over shrimp and vegetables, then serve with lemon wedges.