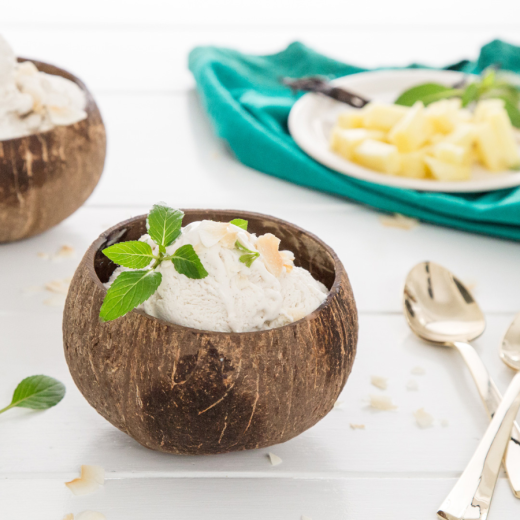 No-Churn Pineapple Coconut Ice Cream
No churning, no cooking... just pure, rich pleasure with this vegan pineapple coconut ice cream, uniquely enhanced with Simply Organic Cardamom and Madagascar Vanilla Bean.
1 teaspoon Simply Organic® Pure Madagascar Vanilla Extract
2 Simply Organic® Madagascar Vanilla Beans, halved lengthwise and insides scraped, or 2 tablespoons Simply Organic Vanilla Bean Paste
1/4 teaspoon Simply Organic® Cardamom
2 cans (13.5 ounces each) coconut milk, refrigerated for 12 hours prior to making ice cream
1/2 cup maple syrup
1/4 teaspoon fine grind salt
2 cups chopped fresh pineapple, divided
Toasted coconut, for garnish
Fresh mint leaves, for garnish
Directions
In a large mixing bowl, combine vanilla extract, vanilla bean scrapings or paste, cardamom, coconut milk, maple syrup and salt. Using a whisk attachment, whip ingredients until fluffy and resembling whipped cream.
Into a bread pan, pour the whipped cream. Fold in 1 cup pineapple.
Freeze for 6 to 8 hours, until ice cream is firm.
Dip an ice cream scooper in warm water and scoop ice cream into bowls. Serve with remaining pineapple, toasted coconut and fresh mint leaves.