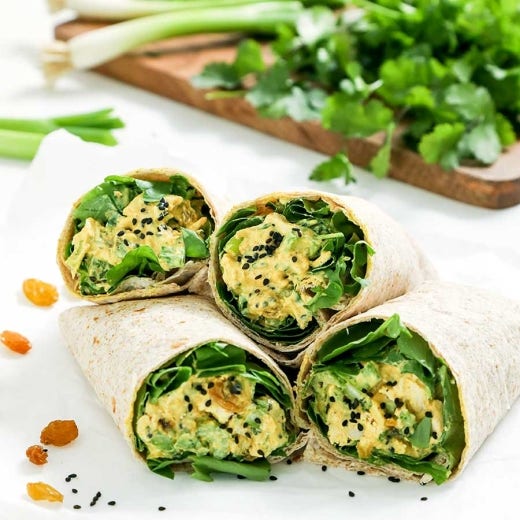 Lightened-Up Curried Chicken Salad Wraps
Classic chicken salad gets an upgrade in this tasty recipe, made with a simple sauce of Greek yogurt and olive oil, seasoned with curry powder, ginger and paprika. So quick and easy with pre-cooked chicken.
1/3 cup nonfat Greek yogurt
2 tablespoons extra virgin olive oil
1 tablespoon fresh lime juice
2 teaspoons Simply Organic® Curry Powder
1 teaspoon Simply Organic® Ground Ginger
1/2 teaspoon Simply Organic® Paprika
1/2 teaspoon sea salt or pink Himalayan salt
1/4 teaspoon Simply Organic® Black Pepper
1/4 teaspoon Simply Organic® Garlic Powder
1 pound cooked boneless, skinless chicken breast, shredded
3/4 cup thinly sliced celery
1/2 cup sliced scallions
1/2 cup chopped cilantro
1/4 cup golden raisins
1 tablespoon Simply Organic® Black Sesame Seed
4 tortillas
1 cup mixed fresh spring greens or spinach
Directions
In a large bowl, combine yogurt, olive oil, lime juice, curry powder, ginger, paprika, salt, pepper and garlic powder. Whisk until smooth.
Add shredded chicken, celery, scallions, cilantro, raisins and sesame seed. Stir gently to combine.
Lay out tortillas and divide greens among them, arranging across the bottom third of each tortilla. Divide chicken mixture among tortillas, layering over top of greens.
Roll each wrap like a burrito, lifting bottom edge up and over filling, folding in sides then rolling, ending with seam side down. Cut each in half crosswise and serve.