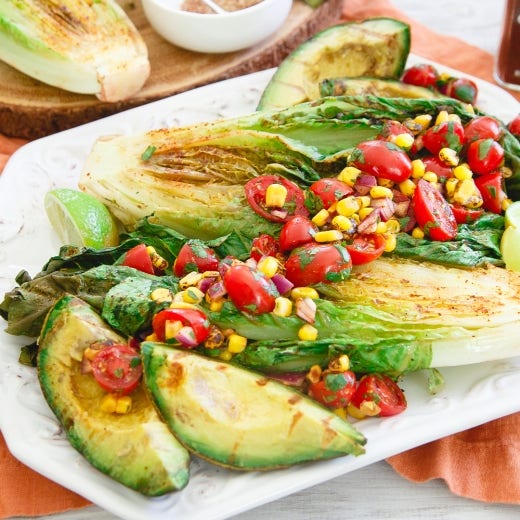 Grilled Romaine and Avocado Southwestern Salad
Grilled romaine is a fun summertime way to enjoy salad. This one takes a Southwestern spin with grilled avocados and a fresh, smoky corn salsa featuring organic chipotle pepper, chili powder and cumin. Enjoy on its own or alongside your favorite grilled protein.
Directions
Lightly brush both sides of romaine and avocado slices with grapeseed oil.
In a small bowl, combine garlic powder, chili powder, chipotle, salt, cumin and black pepper.
Season romaine with half the spice mixture.
Place romaine and avocados flesh-side down on the grill for 2 to 3 minutes until char marks appear, keeping grill lid open. Flip and grill on the other side. Watch carefully for burning. Remove once sufficiently charred on all sides.
In a small bowl, combine tomatoes, corn, red onion, cilantro and lime juice.
Add remaining spice mixture to tomato-corn mixture and toss to combine.
On a platter, place grilled romaine and avocados, top with the fresh tomato-corn salsa and garnish with additional lime wedges.
Preheat outdoor grill or stove-top grill pan to high.